Please, Jay Norvell, Do Not Force Me To Root For Deion Sanders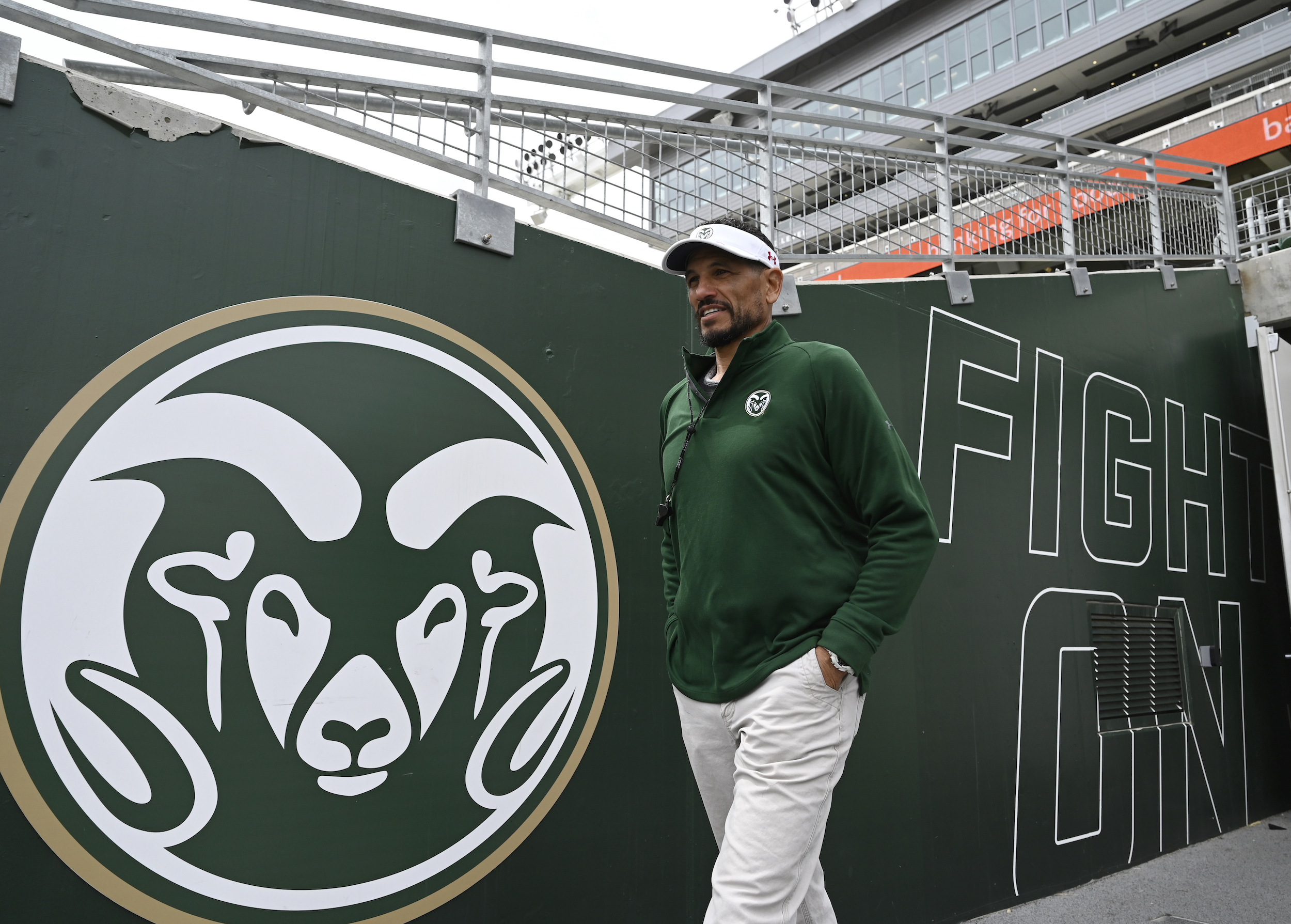 It is absolutely imperative right now that all college football coaches refrain from doing anything that might cause an otherwise normal person to feel that they have been forced to root for Deion Sanders, head coach of the Colorado Buffaloes. Thankfully, the task really could not be much simpler than it is: Sanders—"Coach Prime" to fans, sycophants, and too many members of the media—enjoys playing the villain, and he is good at it. He wants you to root for the other guy, and actively makes himself as obnoxious as it takes to secure that condition, so that when he beats the other guy he can lord his victory over both of you. Even college football coaches, among the weirdest and most unpleasant demographics on the planet, should not have a hard time seeming preferable to THIS FUCKING GUY.
But here comes Colorado State head coach Jay Norvell to screw it all up, to force us to consider whether it might be conscionable to spend what is left of this week actively rooting for Sanders. Norvell's unranked Rams, fresh off a 50–24 home loss to Washington State, travel to Boulder this week to face the 18th ranked Buffaloes, nominally an in-state rival. Norvell talked extensively about this upcoming matchup during his regular Wednesday appearance on the Jay Norvell Coach's Show. About 38 minutes into the show, Norvell was asked by host Brian Roth about his coaching counterpart.
"I don't really want to talk about him right now," said a smiling Norvell, to applause and ringing cowbells from what sounds like a live audience, before launching into a bunch of boilerplate junk about the tradition of the rivalry and all the support his team has received from former Rams players. To Norvell, all the hype around the game is a distraction. "We've heard about Gameday being there, we've heard about—what's the other, Fox people, whatever that is, they're there. Stephen A. is gonna be there, they're telling me The Rock is gonna be there, and Kevin Hart. It doesn't really matter. What matters is what's on the field." This did not stop Norvell from immediately making a comparison of the number of Colorado recruits rostered by the two teams, which, of course, he sees as a measure of moral superiority.
All of it was very cheesy but also pretty normal for college football, so far. Norvell then talked about the experience of going up against as hyped and self-hyping a program as Sanders's Buffaloes, and this is where he got out over his skis, and then somersaulted forward onto his face, and then continued to roll down the mountainside, pinwheeling, limbs akimbo, throwing off articles of clothing and bits of equipment until careening with an echo over a cliff and finally being buried under his own avalanche. This was the most animated, passionate segment of the entire 90-minute program:
"We're excited. You know, our kids are really—you know, we had to do a bunch of ESPN videos, and it was great, I loved it. But our kids came out of those videos, really, with a chip on their shoulder. They're tired of all that stuff. They really are tired of it.

And I sat down with ESPN today, and I don't care if they hear it in Boulder: I told them, I took my hat off and I took my glasses off, and I said, 'When I talk to grownups, I take my hat and my glasses off, that's what my mother taught me.'"
Congratulations, coach. You have now made it so that I want the Buffaloes to win by 200 points and for you to have to remove your hat and glasses while accepting a post-game handshake from a man who ranks his own children.