Mevis & Cook lead Tigers to 30-27 upset win over No. 15 Kansas State
COLUMBIA, MO 一 Seven days ago, you could almost hear a pen drop as fans exited Faurot Field following the Tigers' narrow 23-19 win over Middle Tennessee State.
On Saturday, it was hard to hear yourself think as a sell-out crowd stormed the field, sang "Mr. Brightside" in unison and mobbed Missouri kicker Harrison Mevis after he hit a Southeastern Conference record-breaking 61-yard field goal as time expired to give the Tigers a 30-27 win over No. 15 Kansas State.
The Tigers' first win over a top-20 team since they beat No. 11 Florida in 2018.
"Yeah, I can get used to it (Missouri fans storming the field). No, that's crazy. I just took off running the other way, celebrating with my team. They all tackled me and that hurt," Mevis jokingly said. "But you know I'll take one for the team. That was such a good experience. These guys deserve it. This team deserves it."
Mevis was a preseason second-team All-SEC selection but has not looked the part so far this season. Entering Saturday, Mevis was 1-of-3 on field goal attempts and 7-of-8 on PATs after he missed his first extra point of his career last week versus MTSU.
Mevis added another miss when he missed from 53 yards out in the second quarter. Most understand how that's not the easiest kick, but Mevis admitted he messed it up by basically kicking the ground before he made contact with the ball.
His struggles date back to last season when he missed a career-high six field goals going 22-of-28 for the season, which was infamously highlighted by a 26-yard missed field goat at the end of regulation that would've given Mizzou a 17-14 win over Auburn.
However, Mevis doesn't think about it. In fact, he thinks the struggles he's had over the last 365 days have made him the player he is today.
"I see it as a chance to go 1-0 at the next opportunity that I have. You can't really worry about the past," Mevis said. "The past is what makes you what you are now. And so, I'm better because of my misses, and I think this team is better because of the adversity that we've had the last four years."
Mevis finished the game 3-of-4 with makes from 30, 25 and the aforementioned 61-yarder.
Defensive end Johnny Walker, who had five tackles, a tackle for loss and a sack, said that Mevis' game-winner capped off one of the best days of his life.
"I almost had a heart attack," Walker playfully said. "I didn't know what was going on. So, I heard the cannon and that's when I knew we won. I didn't know they were going to storm the field, but that's probably the best experience I've had in my whole life playing college football. Or football period."
"I couldn't be prouder of Harrison Mevis. They (the Wildcats) had the right to choose the wind in the third quarter and they went with it. And I told Erik (Link), 'In the fourth quarter, we're going to hit a winner with our field goal,'" Missouri head coach Eli Drinkwitz said in his postgame presser. "Harrison Mevis is tough as nails. Does everything the right way. Game on the line and he makes it. Beautiful. And that's redemption."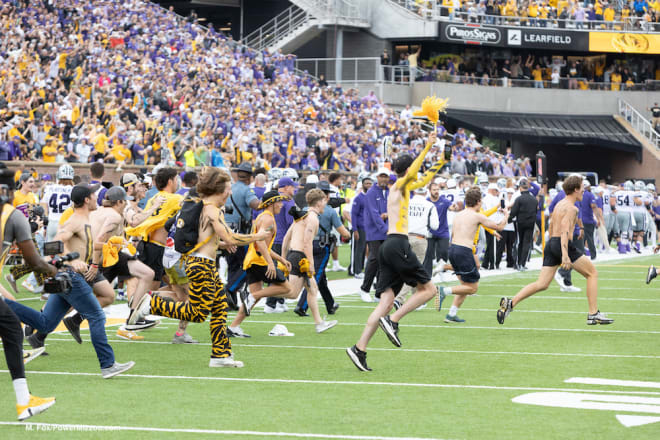 Drinkwitz defends Brady Cook after career-day
The topic of Brady Cook being Missouri's starting quarterback has always been a polarizing discussion since he was named the starter entering last season.
Now, after coming off a 6-7 season in 2022, which saw plenty of highs and lows, and ended with offseason surgery to repair a tear in his right labrum, the polarizing discussion about whether Cook is the guy or not has remained.
It was the topic of debate among media and fans when Drinkwitz announced him as the starter entering fall camp. It was the topic when he took all of the first-half reps versus South Dakota in the season opener, and it was the topic last week after a less-than-spectacular showing versus MTSU.
It seemed like the topic reached a boiling point when Missouri fans booed the starting quarterback, moments before he'd play the best game of his career on Saturday morning, during player intros.
The whole situation left a nasty taste in Drinkwitz's mouth which led to an impassioned speech by the Tigers head coach in his postgame presser.
"It pissed me off when we booed our starting quarterback to start the game. It pissed me off," an impassioned Drinkwitz said. "He went out there and played his butt off for this university and this team. They need to get behind him. They need to get behind the young man. You want to boo me? Fine. (But) you don't boo the starting quarterback. It's bull crap. I'll say it again. Should've never happened."
Drinkwitz said after his speech he hoped Cook didn't hear the home crowd booing him, but Cook said he did.
However, he just used it as more motivation to prove that he is the guy and that Drinkwitz made the right decision in selecting him to be the team's starting quarterback.
"I mean I hear it. It's hard. You know this is my dream school. All I want to do is play quarterback here. I'd like everyone else to want me to play quarterback here too. That would be a nice feeling. Games like this probably could help. So, we're excited about that. We'll see."
After those boos, Cook and the offense got off to a blazing start with their first first-possession touchdown versus a Power 5 team since Week 8 of last season versus Vanderbilt.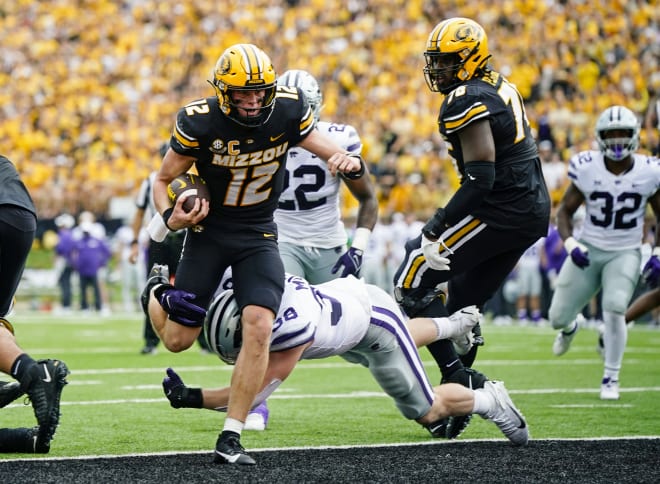 The touchdown came via a 47-yard pass from Cook to wide receiver Luther Burden III. One of many big plays on the day for the Tigers.
"Brady Cook man, I've known he had it in him since I been here. I saw the dog in him. He's never going to give up, he's going to give it all he's got no matter what," Burden said.
Through the first 25 minutes of the game, Cook was having himself a day, having completed 9-of-12 passes for 186 yards and two total touchdowns. Then, on the team's second to last possession of the second-half Cook scrambled to the right sideline for a gain of seven and came up lame for a bit.
"I just felt my foot get caught in the turf and then my knee just kind of locked out. I honestly don't know," Cook said. "I'd have to go watch it. It happened so fast, but we'll see. It's all good."
He was asked if he would've permanently sat out the rest of the game and he playfully said it was going to take a lot more than a sprained knee to remove him from the game.
"We talked about this last year. I think it would have to be like a broken leg or broken shoulder," Cook said.
Sam Horn replaced Cook for two plays before the latter returned.
Drinkwitz said coming out of halftime he asked Cook to honestly tell him if he could go or not and Cook said he could and he did.
After his injury, including the series right before halftime, Cook was 14-of-22 for 170 yards and a touchdown.
He finished the game 23-of-35 for a career-high 356 yards, three total touchdowns and averaged 15.5 yards per completion.
When Drinkwitz was asked if he'd seen Cook throw like this before, he defended his quarterback once again and questioned why there were so many questions surrounding Cook and his ability.
"Yeah, in practice all the time. In practice. That's why he is the starting quarterback. Like why are we still asking questions to defend Brady Cook right now," Drinkwitz asked astonishingly. "The dude's a good football player. He's a really good football player. Quit asking me about it."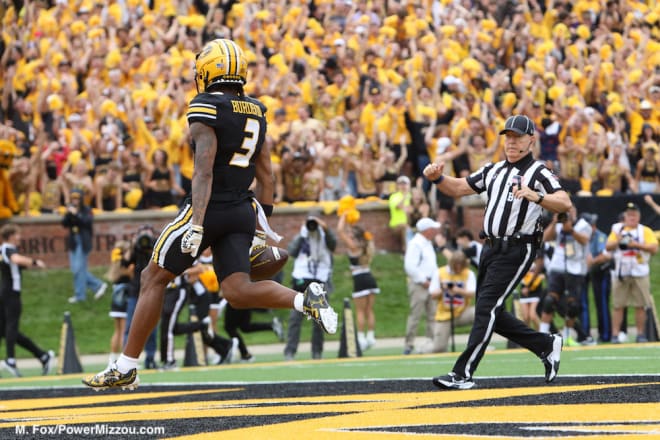 Big day for "Touchdown Luther" and Mizzou pass catchers
Last season, Burden finished the year with 45 receptions for 375 yards and nine total touchdowns.
Entering this season, he never had more than 66 receiving yards in a game.
After he racked up seven receptions for 114 yards and two touchdowns on Saturday, he's up to 22 receptions for 327 yards and three touchdowns this season
"Y'all know how dynamic "Lu" is. Man, that's "Lu" or "Himmy Turner" or however you want to call it, he's "Him" for sure," Missouri receiver Mookie Cooper said.
Burden is clearly a better player than he was last year and without a doubt has been the best player on the team this year.
The St.Louis native credits his play to facing one of the league's top cornerback duos and defenses in practice.
"I feel like I'm getting more comfortable as the season goes on," Burden said. "I go up against a great defense every day. Shout out to them. So, they got me prepared all the way from spring to now."
Unlike last week, when Burden received 10 of Cook's 19 targets, the ball was spread out a little more in Week 3.
Theo Wease had six receptions for 72 yards. Cooper had four receptions for 79 yards. Freshman tight end Brett Norfleet had two receptions for 40 yards, and four other players caught a pass.
"It feels great. It's always great to touch the ball, but however it come, we got the dub and to play a part in that it makes it feel a lot better for sure," Cooper said.
A wide receiver who didn't record a catch but still received some love from Drinkwitz postgame was Mekhi Miller, who hurt his hand last week and had to get 11 stitches.
"He actually had one pop out (a stitch) in the first half. Okay, and he played the entire game," Drinkwitz said. "He caught passes for the first time on Friday. But the dude refused. I mean, on Sunday he said, 'Hey Coach, I'm playing, I'm playing, I'm playing.' And that's the toughness and belief that our team has in each other. So really, really proud of him."
Burden said that the way the Mizzou pass catchers played on Saturday was something he and the team already knew they could do. But everyone else is just getting around to seeing and knowing about it.
"We've got some dudes," Burden said. "People don't realize until today, we've got some dudes in this room and on this team. It is just really a build-up of everyone overlooking everybody on our team and overlooking this program. It's all built up and we laid it out there today."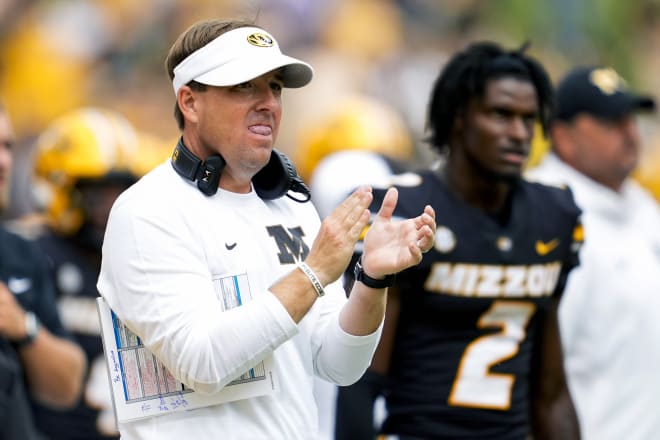 "It's chess, not checkers"
If you learned anything from the Tigers' Week 3 win, it's the offensive plays Missouri presented in Weeks 1 and 2 were only little bits and pieces of the playbook.
What it showed versus the Wildcats makes it completely understandable as to why Drinkwitz kept a poker face over the last couple of weeks when asked about the lack of an explosive offense through two games. And after months and months of saying this team and offense was going to be more explosive under new offensive coordinator Kirby Moore, it was finally on display.
Cook, whose 356 passing yards marked his first 300-yard game, completed nine passes of 15 yards or more, and six of them were 25 yards or more.
"I thought we had a lot of opportunities this week to make plays," Cook said. "I was super excited to try to get the ball to different receivers and let them do their thing, and we've just got to keep it up."
Despite going 3-of-13 on third down, Missouri racked up 430 total yards, 20 first downs, three 70-yard drives and averaged 6.7 yards per play.
The Tigers were also 3-of-3 in the red zone and all of their scoring drives happened in three minutes and four seconds or less.
In a game Mizzou knew it was going to have to be able to spread the ball around and complete plays over the top, it did.
When Drinkwitz was asked about the tricks in his bag he kept it simple.
"Write what you want to write. It's chess, not checkers," Drinkwitz said.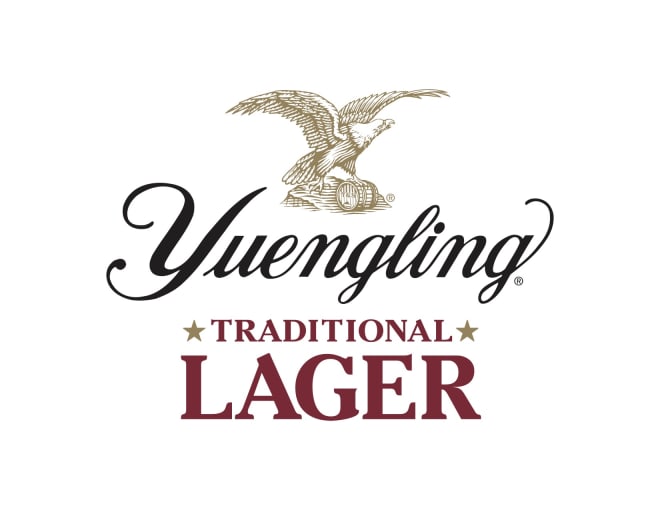 PowerMizzou.com is a proud game day partner of Yuengling Traditional Lager the taste of game-time @yuenlingbeer #LagerUp.
Stay up to date on all the Mizzou news with your premium subscription
Talk about this story and more in The Tigers' Lair
Make sure you're caught up on all the Tiger news and headlines
Subscribe to our YouTube Channel for video and live streaming coverage