Jordan Love Loses To Not The Bears And It Remains Unclear If He Is Good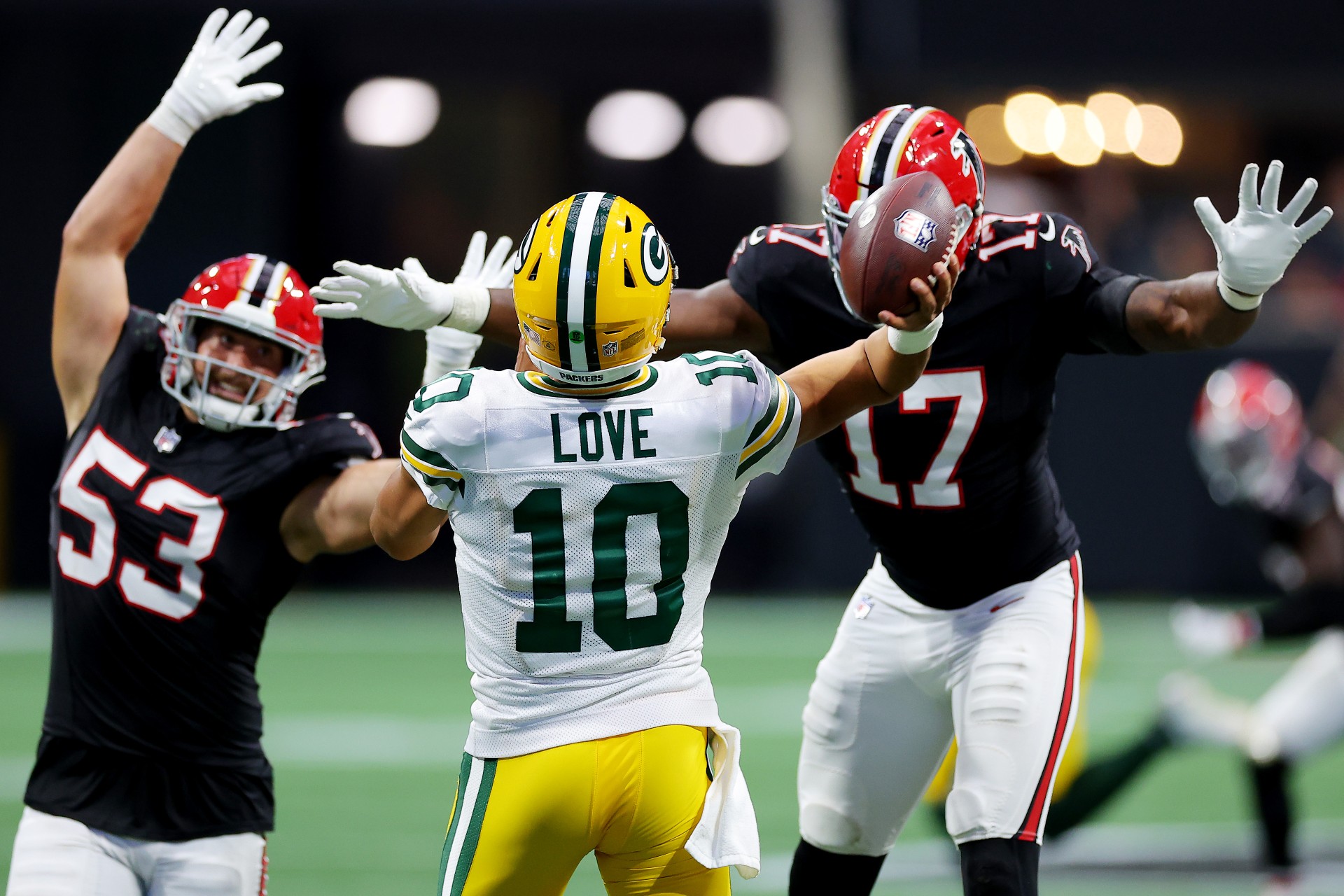 Last week, my colleague Lauren Theisen identified an important issue on this site. After watching the Green Bay Packers play an entire game, she was still unsure if their new quarterback, Jordan Love, was any good. Sure, he won the game in Week 1 while throwing three touchdowns and committing zero turnovers. But also, he did that against the Bears! Who cares! Meaningless! The Bears suck!
Today provided another opportunity to evaluate Jordan Love. Again, he threw three touchdown passes! Pretty good! But he only threw for 151 yards. Pretty bad. Also, the Packers lost to the Atlanta Falcons. Not great. The Falcons went 7-10 last season, and were last in their division, but they are 2-0 this season with wins over the Panthers and Packers. Bijan Robinson looks good. Who knows.
Here is one of Love's touchdown passes:
Not bad. Jayden Reed is about as wide-open as an eligible receiver can be, but Love does place the ball well, so this is good if not exceptional.
Here's another touchdown pass:
Love does a good job selling the play-fake and going through his progressions, and zips the ball through a fairly tight window to find Dontayvion Wicks. From there, however, it's Wicks who does all the work, breaking a tackle and making another defender miss in order to get into the end zone. Perhaps what we can learn from this clip is that Wicks is good.
Maybe there is more to be learned from a non-TD pass. Here's another ball to Wicks that did not result in a touchdown:
Now, I do like this throw. A weaker quarterback would let this pass hang longer, giving the defender time to turn his head and make a play on this ball, and it is placed very well. It's a great play by cornerback A.J. Terrell Jr., so we are again at a loss.
Then there is this botched quarterback sneak:
I understand that not everyone can be Jalen Hurts, but this is one of the funniest quarterback sneak failures I've ever seen. Stumbling directly into an unmoving offensive line while not holding the ball is not exactly what you want to see on a QB sneak. To Love's credit, he admitted after the game that he used the wrong word to snap the ball, and owned that failure.
Unfortunately, my ruling here is that there remains a lack of evidence needed to officially declare Jordan Love either Good or Bad. At this point he appears to be Fine. His status will be revisited at a later date, possibly after a rematch with Not The Bears.