Jim Harbaugh Is Free! | Defector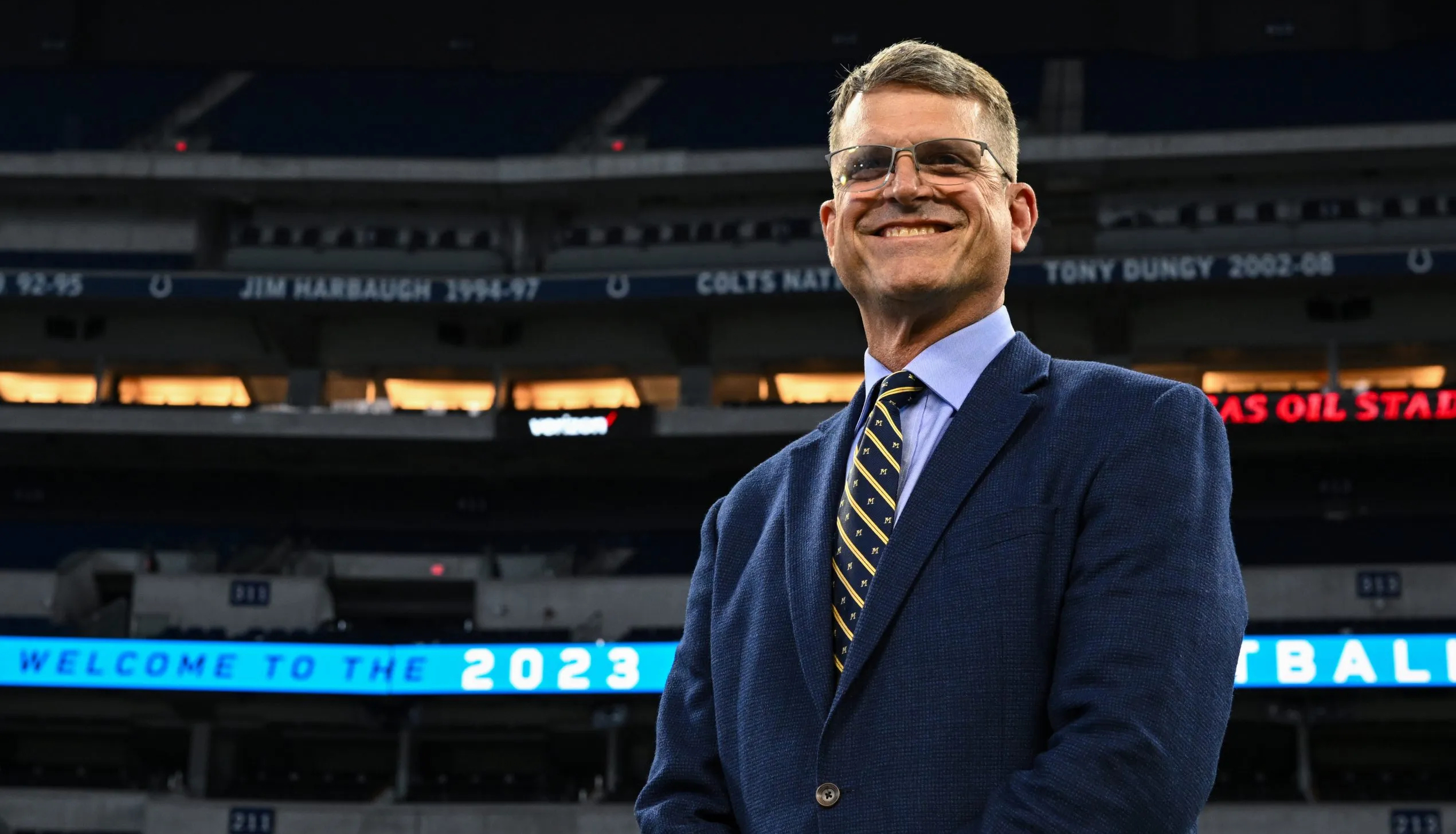 Michigan's self-imposed three-game suspension for coach Jim Harbaugh for improper cheeseburgers has been served. Despite a continued insistence of "no wrongdoing," Michigan decided to get ahead of the NCAA and "punish" their coach, certainly not paying any mind to what the early football schedule looked like. And only two games after his team made a show of wearing "Free Harbaugh" shirts at pregame, Jimbo has thrown off the shackles of tyranny and is now free to get back to coaching some damn football. Boys get your druthers together, fathers lock up your stashes of milk, Jimmy's back in town and the streets of Ann Arbor will run red with ketchup (or mustard if you prefer).
Michigan is at a nice snug 3-0, with a No. 2 ranking to boot. In spite of their soft schedule, they have mostly looked like the upper-echelon team they were supposed to be. Though things certainly weren't clean in their most recent win against Bowling Green, with QB JJ McCarthy throwing some ill-advised interceptions. Would things have been better with Harbaugh on those sidelines, scowling his scowl? Who can really say. But Harbaugh seems to be antsy to get back and relieve some of the pressure he thinks his team might be under.
"One of (the policies) is the analysts and making sure there's absolutely no coaching whatsoever. You say that over and over to guys. It's just a natural coaching instinct. I want to protect them. I want to protect me. (We have) gone to the nth degree to follow every rule, but just actually watching the game and not being on the sideline, I saw it from a different perspective."
Harbaugh says the time away has given him perspective both on his team and his own status, vowing not to do anything to get himself sidelined again. A likely story, but this is a guy who even in the midst of potential NCAA violations, an impending school suspension, and alleged tension with his own athletic director, gave a speech lambasting the NCAA about its refusal to share television revenues with the players. A cool and correct stance, sure, but also the behavior of a man looking to challenge the NCAA. Is it because he believes himself to be right and just? Or is it because he plans to bolt for the NFL after this season, like everyone's been predicting since he arrived in Ann Arbor? Reader, I leave that for you to decide.
If I may address Harbaugh for a second, Jim: You must know that college football is not the same since you last coached. Deion Sanders has proven the ultimate coaching personality in the game now, so you better up the number of push-ups and folksy tales of sleepovers at recruits' houses if you hope to compete. Clean out the khaki rack at T.J. Maxx. Consider upping your sunglasses game. Try having your players unchain and unshackle you from a cage at the 50-yard line during pregame warmups. Let the NCAA know that you've served your time for a crime you refuse to admit ever happened. Jimbo, let this be your anthem: