Fu Xuan banner duration, boosted drop rates, and more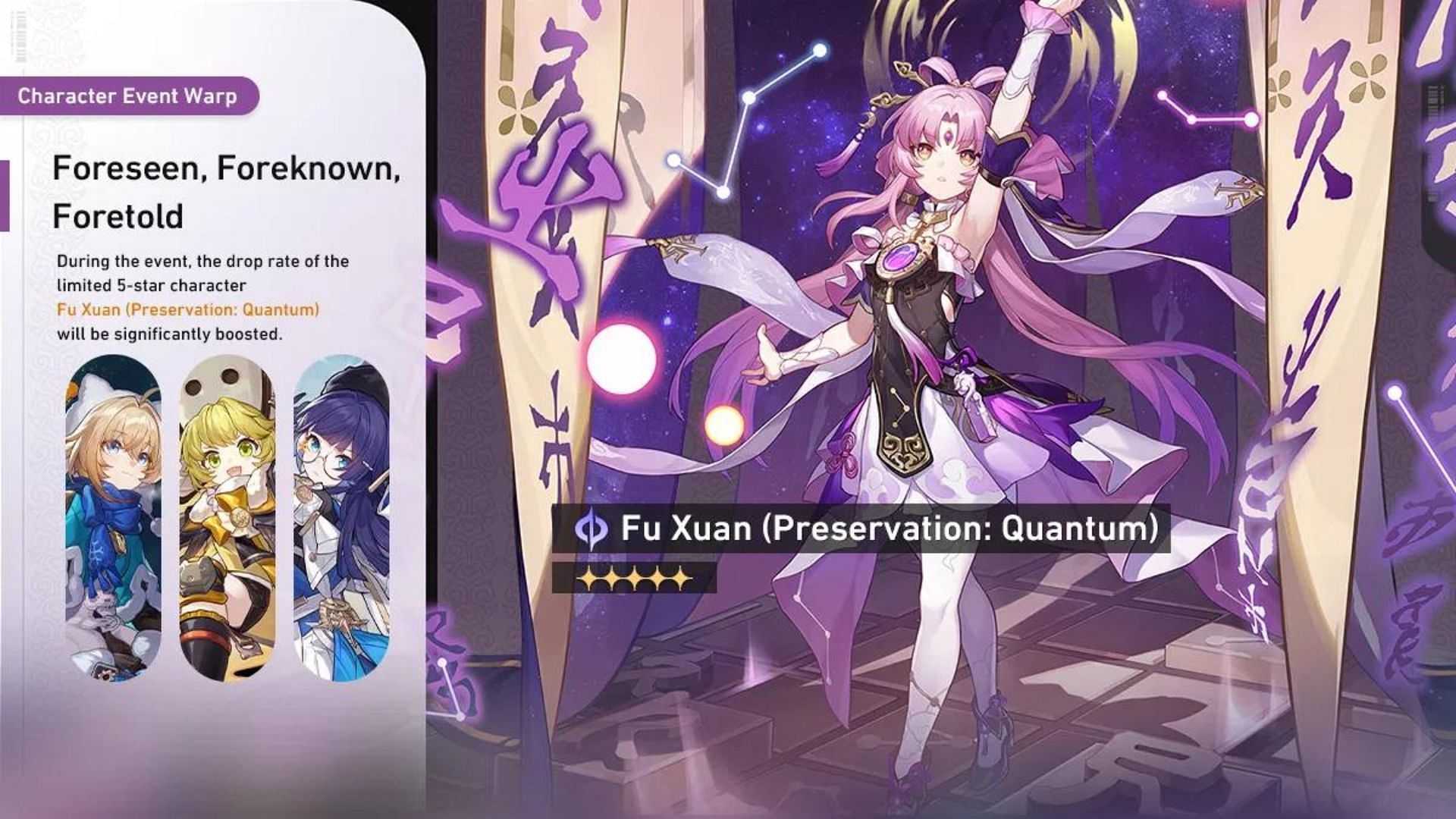 The second phase of Honkai Star Rail 1.3 will release the "Foreseen, Foreknown, Foretold" event, featuring Fu Xuan as the brand new 5-star unit from the Quantum element. With three additional 4-star characters, the banner rolls out on September 20, 2023, across all servers. It is worth noting that all the featured units will have a boosted drop rate for the next three weeks, that is, until the Warp duration expires.
HoYoverse has officially shared a tweet outlining all the information about Fu Xuan's banner. They also stated that every individual on the Warp would be available for the Aptitude Showcase throughout the second phase of version 1.3.
---
" class="promoted-img" loading="lazy" width="1440″ height="220″ alt="fortnite-promotional-banner" />
Everything about the Fu Xuan banner in Honkai Star Rail 1.3
The Fu Xuan banner releases tomorrow, marking the beginning of Honkai Star Rail 1.3's second phase. It will be available for a duration of 21 days before expiring on October 10, 2023, at 2:59 pm server time.
Listed below are all the 4-stars featured in the event Warp:
Lynx (Abundance: Quantum)
Hook (Destruction: Fire)
Pela (Nihility: Ice)
Lynx, in particular, is a new entry in the Quantum roster that is set to be an accessible healer in the game going forward. Besides restoring HP, she can also cleanse the entire team from a debuff via her Ultimate.
That said, HoYoverse has specified that she will not be available on the Departure Warp. In contrast, Fu Xuan is a limited character that will not be added to the Stellar Warp. Hence, you have to spend the Star Rail Special Passes on the "Foreseen, Foreknown, Foretold" event to summon her.
As mentioned, her drop rates will be heavily boosted along with the 4-stars on the banner. In case you skip her, the cumulative Warp count to guarantee a 5-star character will be carried forward to the next banner in Honkai Star Rail.
Lastly, all the characters in the event will be available for trial in the Aptitude Showcase. It provides the opportunity to use them in combat against a few enemies. This way, you can analyze their potential before wishing for them.
The trial completion rewards include Stellar Jades, Credits, and other in-game resources.
Edited by Siddharth Satish