What the Polls May Be Getting Wrong About Trump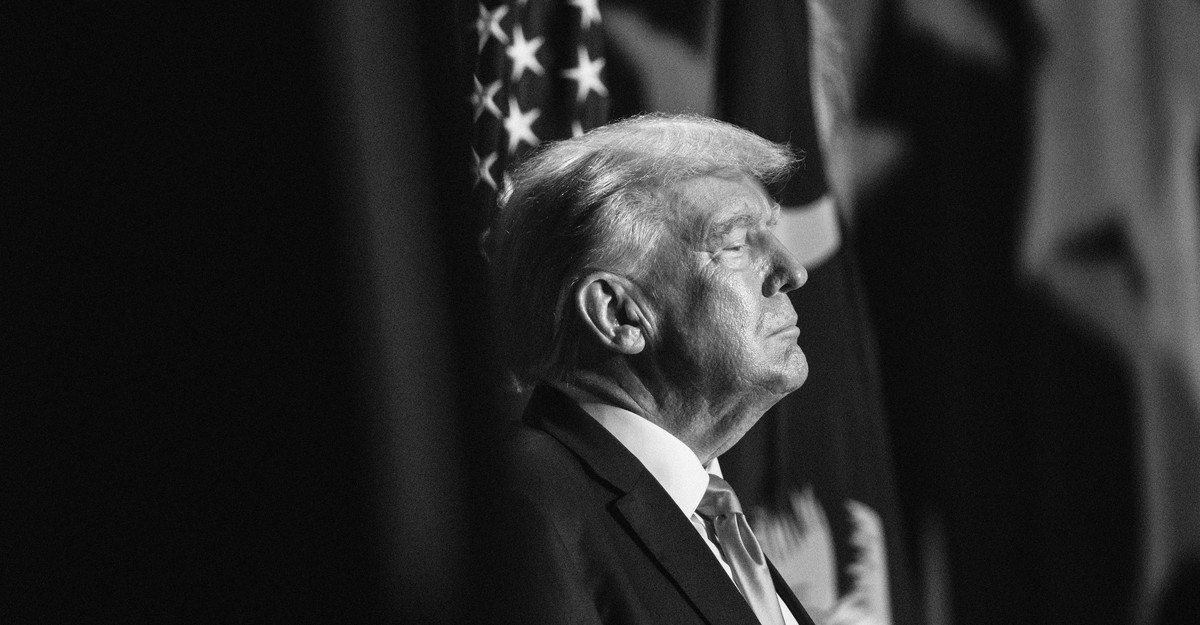 In the months since Donald Trump's indictments started piling up, pollsters have noticed something remarkable: The dozens of criminal charges brought against the former president have seemed to boost his standing in the Republican presidential primary. Trump has widened his already commanding lead over his rivals, and in poll after poll, GOP voters have said that the charges make them more—not less—likely to vote for him again.
The dynamic has turned an infamous example of Trumpian bravado—his 2016 claim that "I could stand in the middle of 5th Avenue and shoot somebody and I wouldn't lose voters"—into something approaching a prophecy. To his critics, the emerging conventional wisdom that the indictments have benefited Trump politically is a dispiriting and even dangerous notion, one that could embolden politicians of any ideological stripe to disregard the law.
Those fears, however, may be premature.
A new, broader survey of Republican voters suggests that the indictments have, in fact, dented Trump's advantage in the primary. The study was designed by a group of university researchers who argue that pollsters have been asking the wrong questions to assess how the indictments have affected Republican voters.
Most traditional polls have asked respondents directly whether the indictments have changed their attitude about Trump or their likelihood to vote for him. According to Matt Graham, one of the authors of the new survey and an assistant professor at Temple University, this type of query leads to biased answers. And it devolves into a proxy question for whether voters—and Republicans in particular—like the former president in the first place. "Respondents don't always answer questions the way we want them to," Graham told me. Republicans "want to say, 'Well, I still support him regardless of the indictment.' And if you don't give them a chance to say that, they're going to use the question to say that."
The researchers spotted a similar polling flaw in the high-profile 2017 special election for an open Senate seat in Alabama, where Republicans told pollsters that the many accusations of sexual assault against Roy Moore only made them more likely to support him. Moore went on to lose the election to Democrat Doug Jones after a sizable number of Republicans deserted him in a deeply red state.
Graham and his colleagues believed that they could elicit more accurate answers about Trump by asking respondents to assess their view of him—and their likelihood of voting for him—as if they did not know he had been indicted. To test their theory, they commissioned a SurveyMonkey poll of more than 5,000 Americans in which half were asked questions in this counterfactual format: "Suppose you did not know about the indictment. How would you have answered the following question: How likely are you to vote for Donald Trump?" They asked the other half questions that pollsters more commonly use.
The experiment produced significantly different results. Like other surveys, the poll based on the traditional format found that the indictments increased Trump's support among Republican primary voters. But the poll based on the counterfactual framing found that the indictments slightly hurt his standing in the party, reducing by 1.6 percent the likelihood that Republicans would vote for him.
The real-world implications of the researchers' findings are, well, limited—at least for now. Trump's polling lead in the early voting states of Iowa and New Hampshire averages more than 25 points; the gap widens to nearly 40 points in recent national surveys. A drop of 1.6 percent suggests that charging Trump with multiple felonies is akin to tossing a pebble at a fast-moving train. "I don't know that I make much of it at all," Sarah Longwell, a Republican strategist who regularly conducts focus groups of voters, told me.
In Longwell's experience, the response from Trump supporters to the indictments has been consistent for months: "They say they do not care about them." Views about the former president have been locked in place for years, Longwell said, and most Trump supporters give either a neutral response to the indictments or say that the charges make them even more likely to vote for him. Almost no one, she told me, said the indictments make them less supportive.
If anything, they help Trump reclaim the status of an outsider fighting establishment forces, which was central to his appeal in 2016, says Chris Jackson, the head of public polling at Ipsos, a nonpartisan research firm that frequently conducts surveys for news organizations. In Jackson's surveys, Republican voters have told pollsters that the indictments make them more likely to support Trump. Still, he told me, he doesn't think the charges themselves are helping Trump's candidacy: "I think the media attention that the indictments have created have helped him."
In polls conducted by Ipsos and other firms, Trump has widened his lead among Republican primary voters since he was indicted by a grand jury in New York this spring. But that shift, Jackson said, is less about Trump than about his opponents, and particularly Governor Ron DeSantis of Florida, who has lost support during that time. "He hasn't actually gained in his share of the Republican electorate," Jackson said. "I don't actually think Trump's strengthened so much as his challengers have weakened."
Jackson's interpretation of the polling data is similar to what Graham and his colleagues found in their counterfactual experiment: The indictments may not have hurt Trump much among Republican voters, but they haven't really boosted him either. "The way a question is worded always has an impact in survey research," Jackson said. "So, yeah, I think it matters, but it's not necessarily uncovering some deeper truth."
Graham, too, isn't arguing that his team's findings should fundamentally alter perceptions about Trump's chances of becoming the Republican nominee. But he believes that the emerging and, it seems, false narrative that charging a political candidate with dozens of serious crimes will redound to his benefit is an important one to dispel. "I don't think that survey researchers should be sending the public profoundly pessimistic messages about how their fellow citizens think and reason when those aren't actually true," Graham told me. "There's plenty to be pessimistic about in our politics, but we don't need to pile on by acting like people think that indictments are good."