United Auto Workers Demanding 4-Day Workweek and Big Wage Hike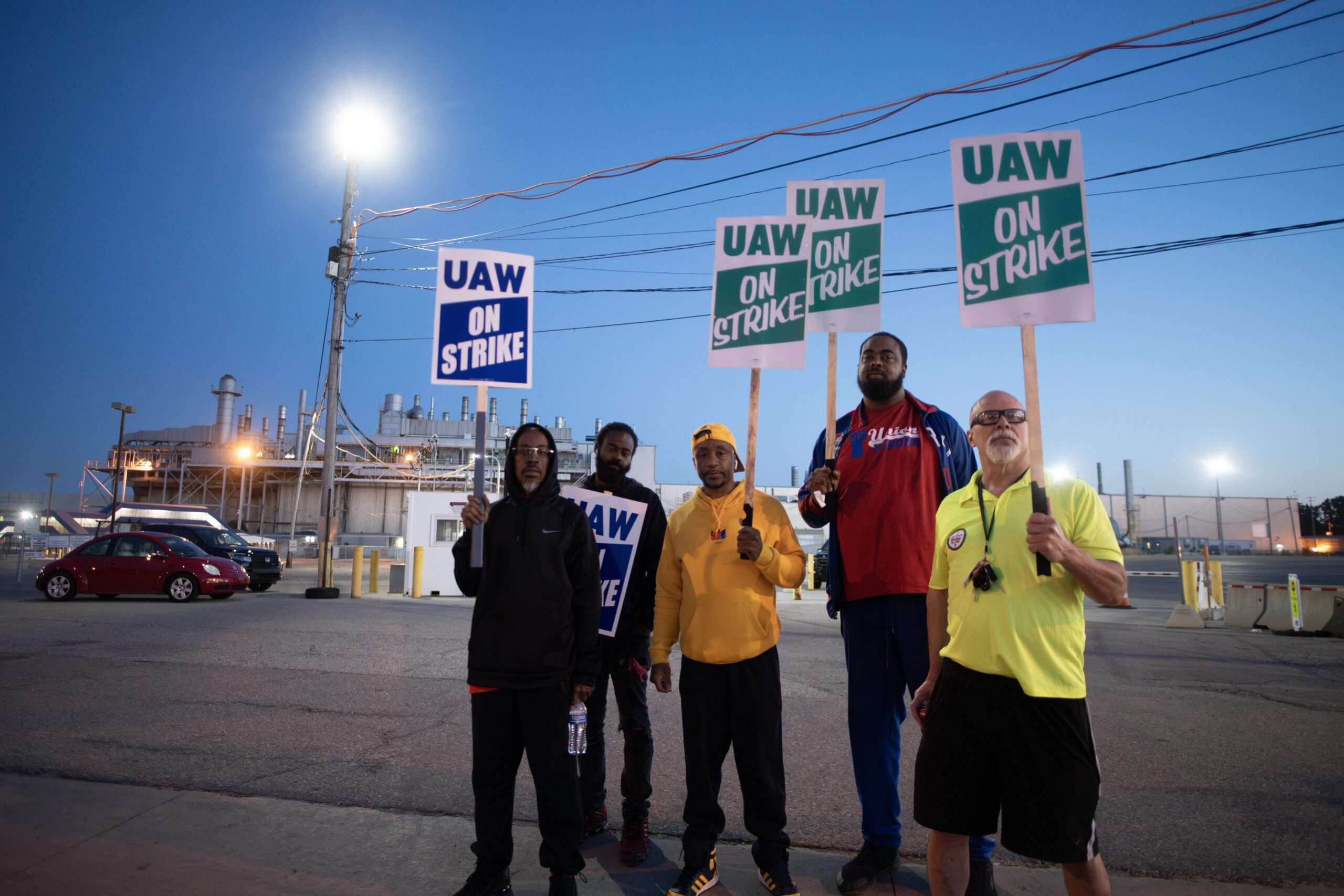 More pay for less work? The United Auto Workers union, which began striking on Friday, will continue to make demands of the big three domestic automakers—General Motors, Ford, and Stellantis (the parent company of Chrysler, Jeep, and Ram)—asking for a 40 percent wage increase over four years, pension plan expansions, and a 32-hour, four-day workweek. 
Companies have countered by offering 14.5 to 20 percent pay increases over the contract period as well as "lump-sum payments to help offset the effects of inflation" and hiking pay for "recent hires and temporary workers, who typically earn about a third less than veteran union members," reports The New York Times. It's a targeted strike, meaning some autoworkers across the country are continuing to show up for work while individual plants in Missouri (for GM), Michigan (Ford), and Ohio (Stellantis) are affected. 
"For the last 40 years, the billionaire class has been taking everything and leaving everybody else to fight for the scraps," said union president Shawn Fain in a speech last week, noting that the Big Three have raked in a quarter-trillion in profits over the last four-year contract period. President Joe Biden chimed in, saying that it's time for automakers to share their "record profits" with workers.
The Big Three "had a combined market share of above 85% through the 1960s," writes the American Enterprise Institute's Mark Perry. By 2018, their market share had fallen to "an all-time low of 44.2%." In other words: Competition has gotten stiffer over time. Union activists may believe those greedy companies are just hoarding profits, but it's more likely that boards and executives are looking at market conditions and realizing that dominance is no sure thing and that profits must be reinvested in new technologies lest they fall (further) behind.
"The companies say that they are investing billions in a transition to battery-powered vehicles, which makes it harder for them to pay substantially higher wages," says the Times. "They say they are at a disadvantage compared with nonunion automakers like Tesla, which dominates the sales of electric cars."
Pro-choice Trump? "I think what he did is a terrible thing and a terrible mistake," said former President Donald Trump of Florida Gov. Ron DeSantis' six-week abortion ban during a Sunday morning Meet the Press hit. Trump, evading deeper questions on abortion, claimed he'd broker a deal to restore "peace on that issue for the first time in 52 years," satisfying everyone. Good luck!
Biden impeachment? House Republicans are opening an impeachment investigation to explore whether President Joe Biden benefited from his son Hunter's Ukraine business dealings. House Speaker Kevin McCarthy (R–Calif.), in conjunction with House Oversight Chair James Comer (R–Ky.), Judiciary Chair Jim Jordan (R–Ohio), and Ways and Means Committee Chair Jason T. Smith (R–Mo.), will lead investigations. 
"Without doubt, Hunter Biden's shady business deals undermined America's image and our anti-corruption goals, and his conduct was thoroughly reprehensible," writes Rep. Ken Buck (R–Colo.) for The Washington Post. "What's missing, despite years of investigation, is the smoking gun that connects Joe Biden to his ne'er-do-well son's corruption." 
Reason's J.D. Tuccille offers a different take: "A lot of the same outlets saying there's no evidence spend a lot of ink disputing the persuasiveness of evidence they tell us doesn't exist." (More on this here, here, and here.)
---
Scenes from New York: Overfishing, unintended consequences, and the magnificent marine life (whales!) flourishing right outside the city
---
QUICK HITS
• Ontario's education ministry just issued a directive for schools to weed out books deemed uninclusive. Some school districts responded by simply removing all books published before 2008.
• "It was only after I lived overseas that I found out about the censorship of the 9/11 coverage by Chinese state media, and discovered the shame and guilt that would gnaw on those who had a chance to unlearn what they were taught," writes Liuyu Ivy Chen for The China Project.
• How environmentalists destroyed my kitchen.
• Migrants who have just arrived in New York but aren't authorized to work are making ends meet by renting illegal mopeds and working for food delivery apps. The city has responded to this industriousness by cracking down harder.
• Comedian Hasan Minhaj appears to have fabricated or exaggerated all kinds of stories, including an incident involving an FBI informant infiltrating his mosque and a tale of suspected anthrax being sent to his home.
• New TikTok trend: Asking men how frequently they think about the Roman Empire.
• One Redditor fed ChatGPT his entire comment history and asked it to create his psychological profile. (Code available here.)
• "One year after Mahsa's killing, women continue to defy the regime's compulsory hijab laws even though it could get them imprisoned or killed," writes Masih Alinejad for The Free Press. 
• Tucker Carlson interviewed Javier Milei, the libertarian who may actually win Argentina's upcoming presidential election. (Check out Zach Weissmueller's Milei coverage for Reason here.)
• Shots FIREd by the Los Angeles Times.
• Drew Barrymore: the scab we didn't know we needed (who later reversed course, alas).
• The Senate dress code has been scrapped; gird your loins/eyes. 
• Flailing mouthpiece of the gerontocracy:
Asked about Americans being concerned that Joe Biden is too old:

KJP: "80 is the new 40." pic.twitter.com/ijpGmPHlXa

— Conservative War Machine (@WarMachineRR) September 15, 2023