Trump's Mug Shot Gives His Haters Nothing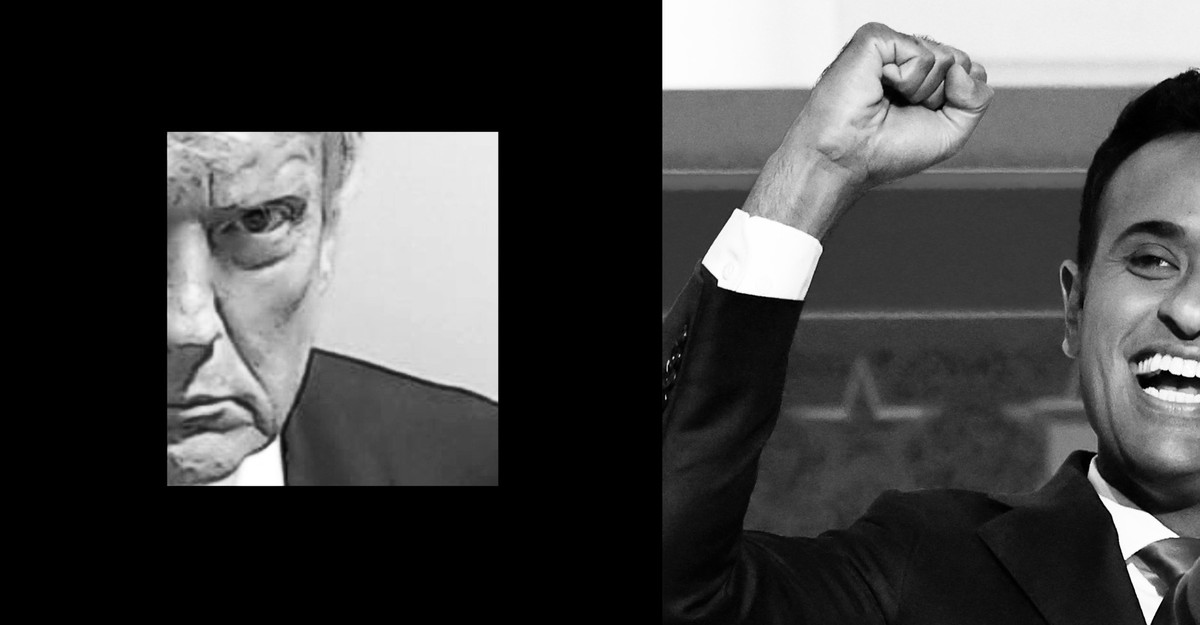 Listen to this article
Produced by ElevenLabs and NOA, News Over Audio, using AI narration.
Donald Trump dropped in for a photo op in Georgia last night—not the usual kibitz on the hustings for a former president, but a killer visual to end the week with: a mug shot.
And just like that, Trump was restored to his accustomed place in the Republican dogpile: everywhere. It was hard to look away, even if you wanted to. Former presidents do not go and get fingerprinted and mug-shotted and perp-walked every day, even the one former president who takes his arraignments in gift packs of four.
Clichés are always bad, and sometimes quite wrong, but the conceit that this would be a "split screen" week for the Republican campaign—eight GOP debaters on one screen, Trump's co-defendants getting processed on the other—was spectacularly amiss from the start. One screen this week would blot out all of the rest.
Yes, Wednesday's debate yielded a few enduring images—including Chris Christie, Mike Pence, and Nikki Haley all fixing simultaneous stink eyes upon Vivek Ramaswamy, as if they were about to stab him with their pens. But those moments unquestionably pale next to what emanated last night from Fulton County. Trump's mug shot, probably the most anticipated in history, seems destined to also be the most analyzed and disseminated.
You can assume that the subject, a figure of uncommon vanity, obsessed like hell over his bureaucratic close-up. How should he pose? For what aura should he strive? Tough guy, defiant, or wounded pup? Would makeup be allowed? Thumbs-ups or no?
Trump had come and gone from the Fulton County Jail by about 8 p.m. on the East Coast. Roughly 95 percent of Americans—or at least a sampling of hyper-online individuals in my feed—furiously began refreshing social media to see if the image was out yet. There were a few fakeouts and some inspired memes. Trump's recorded weight—215 pounds—became a topic for discussion. It was widely doubted.
Finally, around 8:40 p.m, the mug shot landed. Trump's hair and eyebrows were more feathered than usual, like he had brushed them out. Lips were pursed, eyes stern and severe, his brow zig-zagging like lightning. The former president looked like the Grinch—the Grinch Who Stole Georgia (or tried).
One thing that seemed clear from the other co-defendant processings this week is that the "deep state" wise guy who's in charge of the booking shots at this notorious Atlanta jail is not much interested in customer service. The alleged lawbreakers have appeared, for the most part, shaken and disoriented. The lighting in the photos is awful; a harsh shine beats down over the side of each defendant's forehead. The lawyer John Eastman seems confused; Mark Meadows, kind of sedated; a smiling Sidney Powell looks under-slept (and bonkers); Rudy Giuliani delivered the perfect "after" image to view alongside his Time "Person of the Year" cover from 2001.
Trump's photo offers a rough visage, formidable and extremely serious—which is what I assume he was going for. He made an effort here. It paid off. He gave his haters nothing in the ballpark of vulnerability. At 9:38 p.m., he tweeted out the image with a link to his campaign website and a message: "NEVER SURRENDER!"
Each defendant's photo, including Trump's, is imprinted with a prominent Fulton County Sheriff's Office badge in the top left corner. The logo carries a subtle but powerful message: Don't even think about portraying this as anything but a dark, singular, and deeply unpleasant occasion. This is no place for joyriders or dilettantes or Instagram peacocks. You can post bail and leave, for now, but you don't want to come back, trust us. Take a whiff and remember it.
No doubt, Trump will. He does not like places that are "not nice." He is sensitive to germs and smells. "There have been ongoing problems with overcrowding in the [Fulton County] jail, along with violence, overflowing toilets and faulty air conditioning," The Washington Post reported last week.
But at least Trump was spared the spin room in Milwaukee.
For the record, Ramaswamy dominated that particular halitosis hall after Wednesday night's debate. He kept darting from one late-night interview to the next, big-man-on-the-stage that he was. "I gotta keep moving, gotta keep moving," Ramaswamy announced as he glad-handed his way through the sweaty scene. At one point, he approached a CNN camera where host Dana Bash was preparing to interview North Dakota Governor Doug Burgum. Ramaswamy tapped Bash on the shoulder, and Bash lit up, recognizing this sleeker vessel that had drifted into precious airspace. She seized her moment, as Ramaswamy had earlier, securing the peppy capitalist after an awkward back-and-forth with the governor.
"I gotta keep moving," Ramaswamy said again as someone tried to grab him away from Bash's camera setup. This was his big night. Everyone was watching him, and he seemed determined to savor it all before midnight struck. Trump would be back and inescapable again soon enough.