The Ritual Humiliations of the Iowa State Fair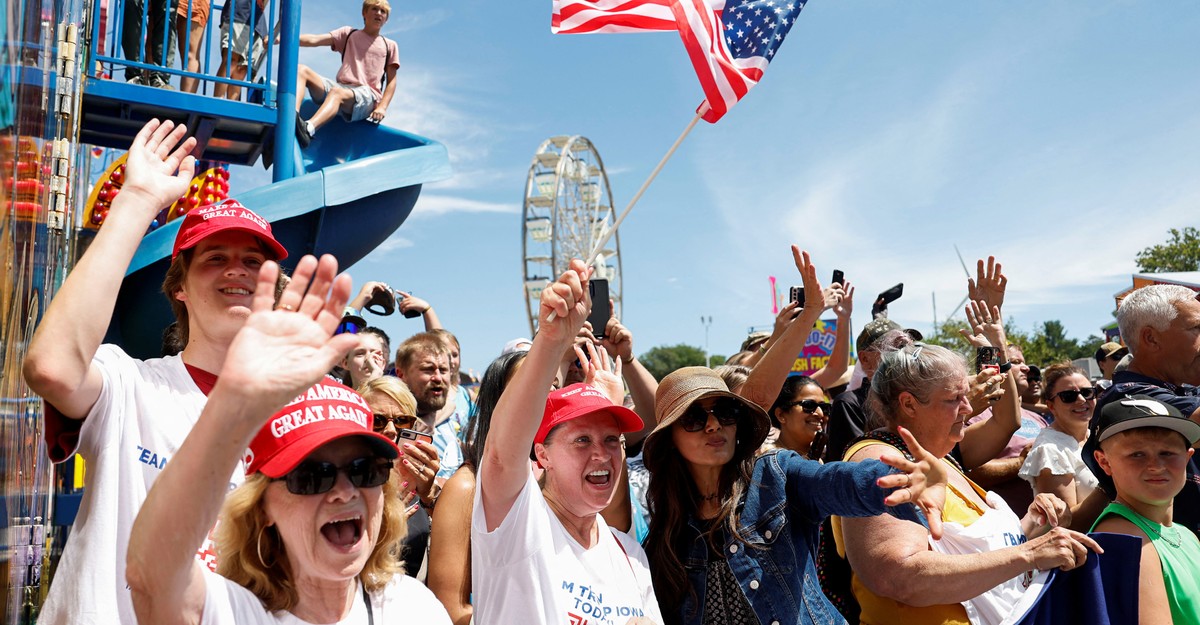 People near me at the Iowa State Fair were frantic. "Do you see him yet?" they panted. "Do you think he'll come out into the crowd to talk?" When the presence of Secret Service officers made it clear that former President Donald Trump would appear at the Steer 'N Stein restaurant on the Grand Concourse, fairgoers formed a line whose end was out of sight.
Not all of them could squeeze into the restaurant, so they filled the street outside, one giant blob of eager, sweating Iowans. When the former president finally appeared, the scrum was so dense that they could barely make out his silhouette through the restaurant's open side. "You know, the other candidates came here, and they had like six people," Trump's giddy voice said through the speakers above us. The audience responded with hoots and cheers.
One of the few rules of American politics to have withstood the weirdness of these past tumultuous years is that anyone who wants to be president of the United States must endure both the many splendors and the equally many ritual humiliations of the Iowa State Fair. It is an essential audition, at least for the GOP. (The Democratic Party has recently shuffled the order of its primary season, demoting the Iowa caucus from its first-in-the-nation status.)
If a Republican candidate, drenched in sweat and stuffed with fried butter, can pique the interest of Iowa's choosy voters, then that candidate has a real shot in the caucuses and, perhaps, the White House. Sometimes, a long-shot outsider can work the crowds and gain an unexpected edge, as Rick Santorum did in 2012, and Ted Cruz did in 2016.
So the fair is a place to charm and be charmed. Early on in the weekend, it seemed to be working its magic.
"He's really very engaging," Shirley Burgess, from Des Moines, said of Mike Pence. "I thought he delivers a much clearer message in person than what I'm getting from him on TV." The former vice president had just wrapped one of several "Fair-Side Chats" hosted by Republican Governor Kim Reynolds. This was a new feature at the fair, at which the governor asks the candidates such hard-hitting questions as "What's your favorite walkout song?"
The night before, Pence had been heckled by a man who asked how he was doing "after Tucker Carlson ruined your career." Another said, "I'm glad they didn't hang you!"
But on Friday morning, Pence drew a respectful crowd for his conversation with Reynolds at J.R.'s Southpork Ranch. Attendees asked him polite questions, and half a dozen people personally thanked him for his "integrity" when Trump was trying to overturn the results of the 2020 election.
Pence had company, however. Florida Governor Ron DeSantis, former UN Ambassador Nikki Haley, and the entrepreneur Vivek Ramaswamy also attracted crowds at the Pork Ranch and at the Des Moines Register's Soapbox venue. Most of the undecided Iowans who attended told me that they'd supported Trump in 2016 and in 2020. These voters appreciated his service, they said, but after eight years of idiotic rants on social media, baseless but relentless assertions of election fraud, and a string of criminal indictments, they were hankering for some new energy. You know, a leader without so much baggage, they told me; someone more … classy.
"Everything out of his mouth is like, 'Shut up, Donald,'" Charles Dunlap, a two-time Trump voter from Johnston, Iowa, told me. He was eager to hear from Ramaswamy and Haley, people he believed would "institute similar policies" to Trump's—just without the drama.
But the intimate enchantment of the fair—the promise of thoughtful, measured consideration—dissipated around 1 p.m. Saturday, when the former president arrived. What very quickly became clear was that the Trump-exhausted, change-minded Iowans I'd met that morning were in the minority. Most folks? They still love Trump.
The former president skipped possible speaking slots at the Soapbox and with Reynolds (because of his strange beef with the governor), but showed up to mingle with his people. They packed into every fair establishment where the president might conceivably speak. Because his event wasn't on any official schedule, everyone was kept guessing. Parts of the fairground came to a standstill. People who just wanted to slurp lemonade and admire the prize-winning steers were annoyed. "Why did we have to come on the day that all the politicians are here?" a man pushing a stroller through the throng asked his wife. (Almost every Iowan, for the record, has at one point uttered the phrase.)
Given his commanding lead in the GOP primary polling, it's not so shocking that Trump's presence would create such fervor. But seeing it, feeling it, was different. By contrast, the crowds that had gathered for the other Republican candidates didn't seem impressive at all. Suddenly, the entire GOP primary contest felt painfully futile, pathetic even. Why are they even doing this? For the also-rans—basically, the rest of the field already—was suffering the abuses of the campaign trail worth even the best-case scenario of being anointed Trump's running mate?
On Saturday, while Pence stood in the sun flipping pork burgers, people in the crowd whispered about him. "Look at him sweat," someone behind me said. "He's a dweeb, and so is DeSantis," a young man from Cedar Rapids named Jacob, who declined to give his last name, told me. "You just want to take their lunch money. It's instinct." Ramaswamy, whose big personality has charmed many Republicans, apparently felt the need to put on a non-dweeb showing after his interview with the governor, and rapped confidently to the Eminem song "Lose Yourself." A sea of silver-haired onlookers, who found themselves trapped near the front of the stage, were obliged to awkwardly bob along.
DeSantis, more than anyone else, suffered at the fair. While he spoke with Reynolds, a plane flew in circles overhead, carrying a long sign that read Be likable, Ron! DeSantis pretended not to notice it. When the Florida governor took his turn in the Pork Tent, Trump supporters gathered behind his photo op, wearing green-and-yellow trucker hats handed out by the Trump campaign. They chanted and yelled insults as DeSantis and his wife flipped burgers.
And when Trump finally arrived on Saturday afternoon, he brought with him a posse of Florida lawmakers who had endorsed him over DeSantis. (Representative Matt Gaetz warmed up the crowd by saying that he'd grilled burgers well done at the Pork Tent, but "the most done you can be is Ron DeSantis.") Will the humiliation pay off in the end? DeSantis's campaign has to hope so. At least in Iowa, the Florida governor is running somewhat closer to Trump than he is nationally.
Earlier in the day, I'd interviewed Matt Wells, a DeSantis supporter and a county chair from Washington, Iowa, who had been following the candidate around the fair all morning. Trump's people "don't really know what they're doing; it's all an emotional thing," he told me. Wells worked for Ted Cruz's campaign in 2016. They'd had a strong ground game then, as DeSantis does now, he said. "Trump," Wells added, "doesn't have any ground game here."
Cruz may have won Iowa, but he quite memorably did not go on to win the 2016 election. I was about to bring up this fact when someone near us gasped. A dozen fingers pointed toward the sky, and people began to scream with excitement. There, in the bright-blue ocean above us, was a plane with TRUMP emblazoned on its side heading for the nearby airport. Someone whispered, "Did I tell you that I shook his hand twice?" The clamor grew louder.
Trump would be here soon. The man, the myth, had landed.