MoveOn's Banned Bookmobile Ran Out of Books in Just 10 Minutes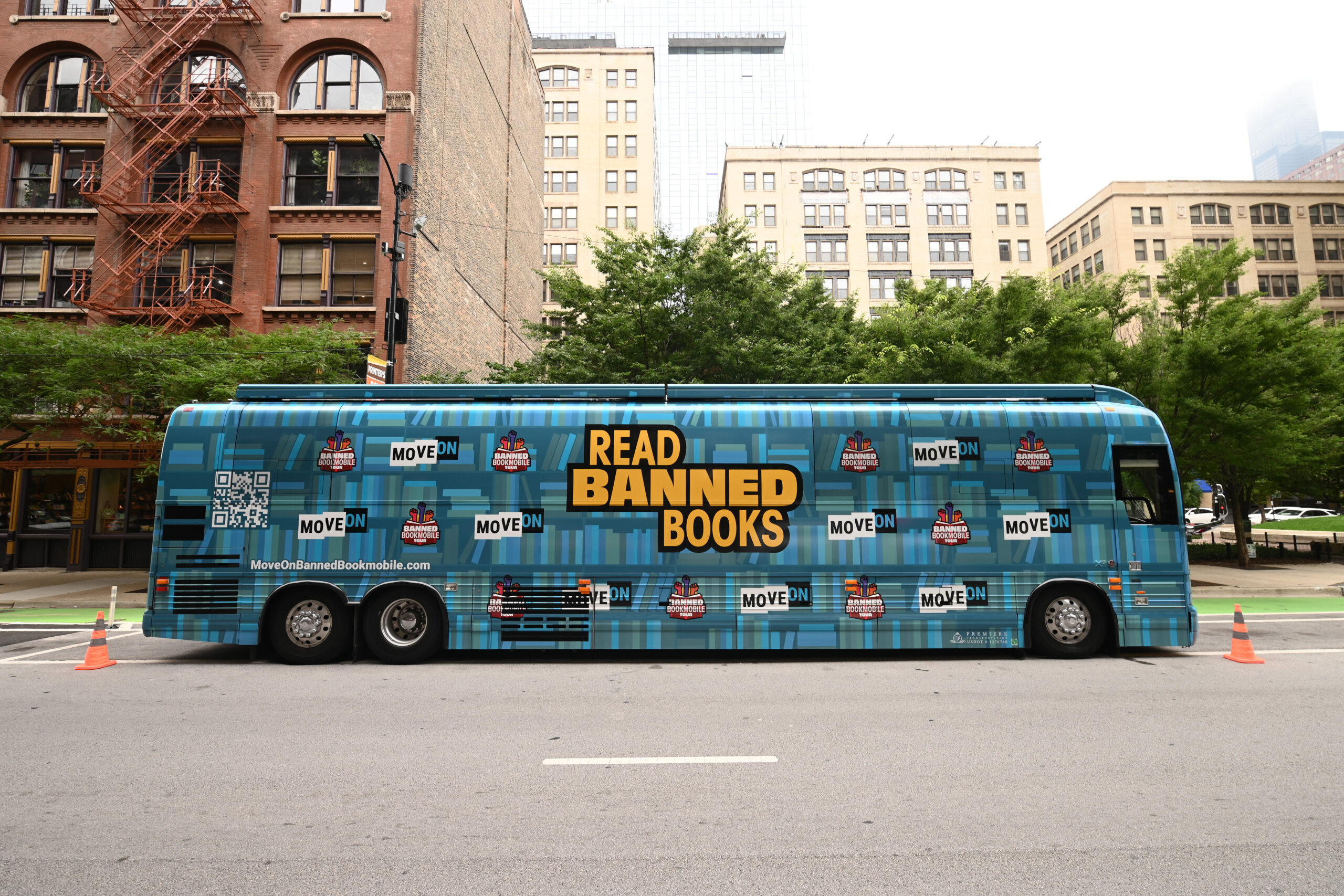 MoveOn's Banned Bookmobile had its first look at NEA's annual convention in Orlando, Florida, on July 5, and it was a hit! So much so that we gave all of our banned books away before the event was even over.
That's right—we ran out of books to give away in just ten minutes. 
Keeping up the momentum, we kicked off our official Banned Bookmobile tour in Chicago the following week. 
We chose to jump-start our tour in Chicago to celebrate Illinois enacting the nation's first ban on book bans—a proactive move sure to be replicated elsewhere. 
Our launch event was at Sandmeyer's Bookstore in downtown Chicago featuring the following speakers:
MoveOn Political Action Executive Director Rahna Epting
AFT President Randi Weingarten
NEA President Becky Pringle
Illinois State Representative Anne Stava-Murray, lead sponsor of the anti-book-ban bill in the Assembly
Illinois State Senator Laura Murphy, lead sponsor of the anti-book-ban measure in the Senate
Both Becky Pringle and Randi Weingarten gave impassioned speeches about the power of books and of learning our history and expressed gratitude to MoveOn members for showing solidarity with educators amid MAGA book bans and censorship. 
We then continued our tour at the Netroots Nation conference in Chicago on July 14. Thanks to the donations, volunteer energy, and support of countless MoveOn members, the Banned Bookmobile distributed thousands of the most banned books in America—delivering free books and a boost of hope in community after community. 
Needless to say, the Banned Bookmobile's kickoff was a huge success, but the work doesn't end there.
In a big Politico story last week on MoveOn's Banned Bookmobile, MoveOn's Executive Director Rahna Epting explained the goals: "One is to shed light on the dangerous bans of Ron DeSantis, whether that's banning saying gay, banning abortion or, even now, banning books—over 500 books in his own state. And No. 2 is to shed light on the fact that this is the entire agenda of the new MAGA Republican Party."
Epting added, "Not pushing back against book bans would be a massive failure for all of us that care about the future of this country."
As we continue giving out free banned books, our mission remains the same—sending a message to MAGA extremists that we won't stand for their bans and we will hold them accountable for their attempts to censor our books, whitewash our history, silence our librarians, and punish our educators.
You can get involved by chipping in monthly to keep MoveOn's Banned Bookmobile on the road and power MoveOn's campaigns to fight back against MAGA extremism.
Check out more posts from our journey through Ohio, North Carolina, Tennessee, Georgia, and all the way to the capital of Florida in the days to come.