Best Moments of Our First Tour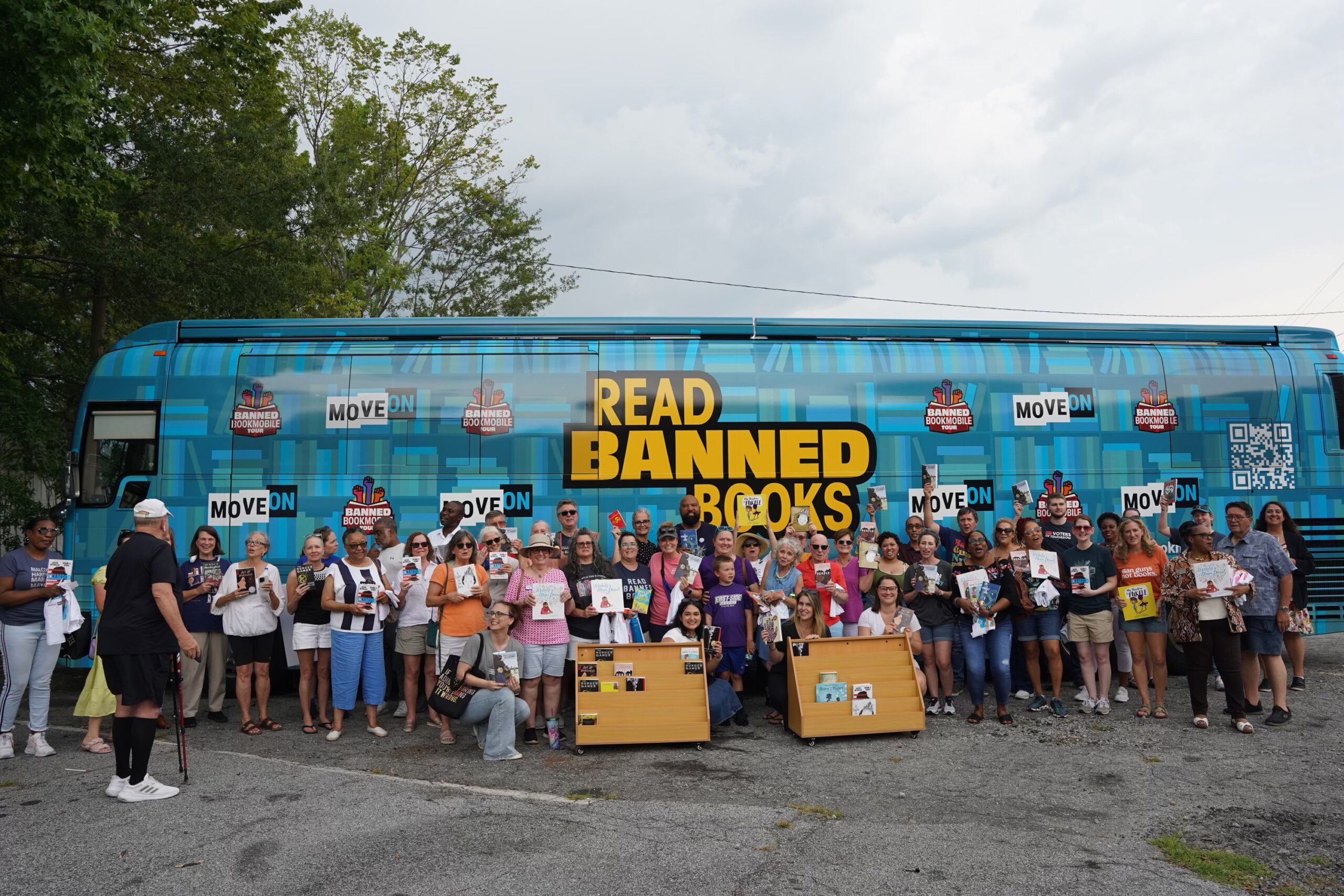 This July, MoveOn members and book lovers came out in droves to support our mission to give away banned books and fight back against book bans across the nation. Whether you joined us or rooted us on from afar, here's a "Recap on the Road" of our first-ever Banned Bookmobile tour!
On our tour, we traveled across 10 states, 14 stops, and distributed thousands of books, bookmarks, T-shirts, and buttons for free. We stopped at local bookstores along the tour to replenish our inventory of banned books for other stops. We held events in bookstores, outside libraries and school board hearings, near state capitols, and in symbolic locations honoring local stories of resistance. We are grateful to everyone who made this tour happen, from MoveOn members who donated to power the Bookmobile and stock it with books to give out, to all of our inspiring speakers who passionately shared their stories and who fight for and educate their local communities every day, and to every person who attended or followed along with the Banned Bookmobile on its journey to support the freedom to read and the freedom to learn. 
After our Banned Bookmobile had its first look at NEA's annual convention in Orlando and officially launched in Chicago at Netroots Nation, we headed to Milwaukee, Wisconsin, where about 50 MoveOn members and Wisconsinites joined us at Rooted MKE, the local BIPOC and children's bookstore.
Mandela Barnes, former lieutenant governor of Wisconsin, was our featured speaker. Barnes shared, "When you see lawmakers across the country try to ban books, they want to limit the knowledge that people have. And we've seen this story before, and it did not end well. We need to make sure that never happens again. We want to make sure that our children have access to world-class education. And that means having access to literature that may upset certain lawmakers that would rather them not read it. And this means teaching full history. This means letting kids get a chance to learn about who they truly are, to learn about the world as it is."
Rapid-Response Campaign Director Mana Kharrazi was on the ground and said, "Everyone is so grateful; folks feel seen, and each has their own story of why this matters. And when we do an event in a place like Milwaukee, they thank us for recognizing that their community's important, and not just during elections. The sense of community among book lovers and educators was breathtaking."
Next, we made our way to Toni Morrison's hometown, Lorain, Ohio, and while we were there, longtime resident Andre Massey walked up and asked us what we were doing in his small town. He informed us that Toni Morrison's niece, Ms. Georgia, still lives in Lorain, so he called her up, and Mana and the Bookmobile team got the chance to chat with her about the Banned Bookmobile tour. 
"We thanked her for her family's contribution," Mana shared, "and she's sending our photo to Toni Morrison's son and letting the family know about our tour. She was grateful for what we're doing and shared that Morrison would've loved it. It was a beautiful conversation that gave us all chills."
More stops and amazing highlights of our tour include:
Cleveland, Ohio, at Loganberry Books, where we had at least 50 folks show up, including school board members, a person from the Honesty for Ohio Education coalition, a civil rights lawyer, and a group of educators.
Pittsburgh, Pennsylvania, at the Clemente Museum, where State Representative Chris Rabb, who recently introduced new anti-book-ban legislation, spoke about the issue. The owner and founder of the museum also spoke about the recent banning of a book about Clemente, all because it mentioned he'd experienced racism. The book sold out for months after news of the banning—another reminder that the majority of the public is against book bans. 
Charlottesville, Virginia, at the IX Art Park, where Daphne Spain, a retired UVA professor and owner of 2nd Act Books, a local bookstore, joined us to share a few words. Allison Spillman also spoke about the importance of opposing book bans. She is running for the local school board against Antonin Scalia's daughter, further cementing her leadership in a local fight against book bans. Check out the NPR piece about our Charlottesville stop!
Chapel Hill, North Carolina, at the Peace and Justice Plaza, where we had a great crowd of students and community members who were very passionate about the issue of banned books and the state of politics in North Carolina. 
Asheville, North Carolina, at Pack Square Park West, where we met dozens of MoveOn members, including Bob, who is hosting a banned book week of action in October. We met retired librarians and teachers, as well as several Florida teachers taking a break from the local turmoil embroiling their schools in fights over books. Other local residents shared about their organizing to vote out Madison Cawthorne and his brand of MAGA extremism.
Nashville, Tennessee, at the North State Capitol, where scores of librarians and teachers joined us. We had the fortune of meeting inspiring activists on the front lines of pushing back against draconian bans in Tennessee, including Aftyn Behn, a local candidate for District 51, who led the organizing around the Tennessee 3, and Vidalia Ann Gentry, a drag artist named TN Pride Chamber's advocate of the year. 

Atlanta, Georgia, where we heard from a slew of local and state champions involved in pro-democracy and educational fights, including those combating the state's new censorship law. The event included remarks from Chair of Cobb Democrats Erick Allen; Amanda Adams Lee, a teacher and former officer of the Georgia Library Media Association; Georgia Educators of Equity and Justice President Aireane Montgomery; Georgia State Representatives Solomon Adesanya and Terry Cummings; as well as Executive Director of Georgia Youth Justice Coalition Melody Oliphant. The powerhouse leaders spoke about the struggles educators face in Georgia, like Katie Rinderlie, who was the first educator fired under the state's censorship law passed in 2022 for reading "'My Shadow is Purple,'" a children's book about inclusion, to her students. 
Charleston, South Carolina, at Itinerant Literate Bookstop, where Charleston's first poet laureate, Marcus Amaker, spoke and read some of his poetry for the crowd. We also met with Be The Ones Executive Director Cate Mayer and several fantastic educators who told of us about some of the fights they are going through in South Carolina's rural Berkeley County, where teachers are under review for assigning some of the books on the AP reading list.
Savannah, Georgia, where we met members of multiple local banned book clubs, along with some local MoveOn members, a few of whom were librarians and teachers. We also met a young local activist who's helping to organize a bookmobile featuring queer authors.
We wrapped up our tour in Tallahassee, Florida, at Common Ground Books. We brought hundreds of thousands of signatures of MoveOn members fighting against bans and censorship to the capital where Ron DeSantis has made these attacks a key part of his governing vision and his campaign for president. Some of Florida's fiercest champions showed up to conclude the tour. Florida State Representatives Michele Rayner-Goolsby and Angie Nixon gave powerful speeches, along with activist Thomas Kennedy and Jen Cousins, founder of the Florida Freedom to Read Project. The chair of the Florida Democratic Party, Nikki Fried, ended the program with a promise to overcome the onslaught of anti-democratic and far-right policies DeSantis and the MAGA Republicans have inflicted upon Floridians. Speakers shared about DeSantis's latest attack on education and efforts to erase the realities of slavery within the United States in Florida's curriculum. 
Nixon said, "He [DeSantis] wants to control how we think, how we learn, because he's fearful … that the people are going to come together and are gonna do the same thing to him that he's been doing to us for years. Progressive people don't lead like that. We lead with love. We lead with honor, integrity. We lead based on facts. Data-driven facts. We don't lead off divisiveness, fear, and hate."  
Rayner-Goolsby said, "The reason that the MAGA right and white supremacists are doing what they're doing—homophobes and transphobes—because we are close to liberation. And we are close to winning. So when we are close to winning, and we are close to liberation, what are you gonna do? You have to silence the people. But I know something that they don't know. We will not be silenced. We will NOT be silenced." 
And we won't stop sounding alarms about Governor Ron DeSantis's censorship and the rising wave of GOP book bans across the country. For more information on our Banned Bookmobile and how you can get involved, visit our site.
How you can get involved:
Chip in monthly to support the Banned Bookmobile

. With just a $5 monthly donation, you can help power MoveOn's Banned Bookmobile cross-country tour so we can keep buying as many copies of DeSantis's banned books as we can, giving them away for free, and help MoveOn continue fighting against this and other authoritarian policies of the MAGA Republican Party to strip us of our rights.