A Full Breakdown of Donald Trump's Legal Cases and His Latest Indictment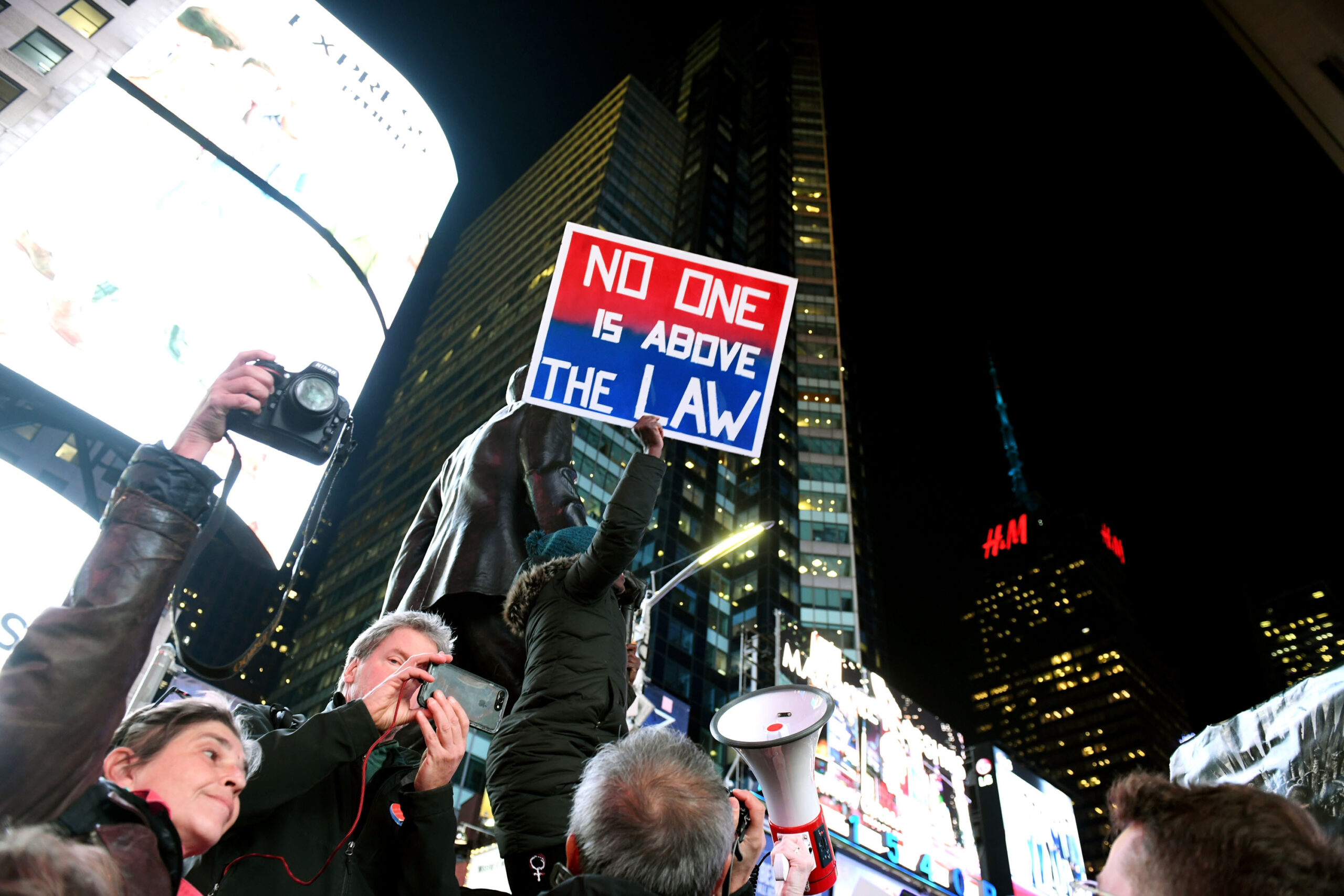 Donald Trump is the first president—former or current—to have been charged with a crime. Over the last five months, Trump has been indicted four separate times and charged with 91 felonies. 
And yet, Trump is still the unrivaled front-runner for the Republican nomination, and polling has him in a dead heat with President Biden in a general-election matchup.
But after so many years of getting away with his crimes scot-free, Trump is finally being held accountable for the crimes he's committed. No one is above the law, including a former president. 
Here are the four crimes Trump has been indicted for this year: 
"CRIMINAL ENTERPRISE" | Fulton County, Georgia
On Tuesday, August 15, Trump was indicted for the fourth time, and the charges lay out exactly what Fulton County District Attorney Fani Willis believes Trump to be: an organized crime boss. 
Trump was charged with 13 felonies related to his efforts to overturn the 2020 election results in Georgia, and 18 of his co-conspirators are charged as well. The resulting charges are all damning, but one stands out above the rest. Trump is being charged under the Racketeer Influenced and Corrupt Organization Act statute in Georgia, more commonly known as RICO.
There are two important differences between this indictment in Georgia and the federal indictments Trump is currently facing. First, the RICO charge in Georgia is the first charge in any of the indictments that comes with a mandatory minimum sentence: five years in prison. Second, unlike the federal indictments, Trump will have no way to make this case in Georgia go away or pardon himself from the charges—even if he wins the 2024 election.
CONSPIRACY TO OVERTURN ELECTION RESULTS | Washington, D.C.
The Case: Once it was clear Biden had won the election, Trump pressured officials, in multiple states, to overturn the popular vote. He then conspired to produce "fake electors" that would throw the election into question and allow the House of Representatives, led by then-Vice President Pence, to decide Trump was the winner of the 2020 election. When Pence refused, Trump riled up the crowd to storm the Capitol on January 6, exploiting the violence to disrupt the certification of the votes. 
Status: On August 1, 2023, Trump was indicted by a federal grand jury on four counts, including "Conspiracy to Defraud the United States." 
THE STOLEN DOCUMENTS | Mar-a-Lago, Florida
The Case: Trump illegally kept thousands of documents, many of which were highly classified, at his home in Mar-a-Lago. He refused to return them and conspired to hide them from investigators.
Status: On June 9, 2023, Trump was charged with 37 counts, including unauthorized retention of national security secrets, and false statements. Judge Cannon, a Trump-appointed judge with a history of bias, is overseeing the trial. Advocates are calling for her to be removed from the trial and for the trial to be televised, for transparency. 
HUSH MONEY PAYMENTS  | New York, New York 
The Case: In attempts to cover up an alleged affair, Trump made hush money payments to Stormy Daniels in the days before the 2016 election. At a news conference after Trump's arraignment,  Manhattan District Attorney Alvin Bragg explained that "Under New York state law, it is a felony to falsify business records with intent to defraud, intent to conceal another crime."
Status: On April 4, 2023, Trump was charged for 34 criminal counts of falsification of business records in the first degree. He pleaded not guilty. The prosecution intends to bring this case to trial in January 2024. 
Here's how you can get involved:
Donald Trump and his allies have continued to alert MAGA supporters and spread conspiracies about the criminal charges against Trump. Trump has claimed that these charges are politically motivated and that they are an abuse of power from the Biden administration. He's even fundraised millions of dollars off these claims and his indictments. Enough is enough.
We have a real opportunity to put a stop to Donald Trump and the MAGA movement once and for all in 2024. Here's how you can join us in this fight: Join 380,000 MoveOn members and counting by signing the petition to disqualify Trump from holding public office under the 14th Amendment.