What we know about the floods that killed thousands in Libya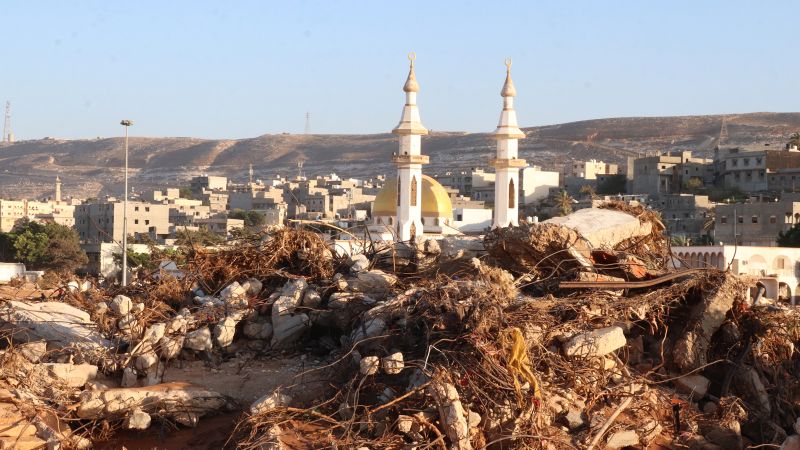 CNN
 — 

Emergency teams are working to find survivors and retrieve bodies after a massive flood hit Libya's northeast three days ago, killing at least 11,000 people and leaving 10,000 missing.
Eyewitness footage shared on social media showed the devastation after the floods, with collapsed rooftops and tumbled cars amid the rubble of destroyed infrastructure.
Satellite images showed buildings in the worst-hit city of Derna destroyed by water and sand. The coastal city's shores appeared to have been severely eroded.
At least 11,300 people are dead in Derna, the United Nations Office for the Coordination of Humanitarian Affairs said Saturday, revising an earlier estimate, and about 170 people had been killed outside Derna. In Derna alone, at least 10,100 people are missing, the UN report explained.
Local rescue teams continue to search for the missing, according to state media. More than 30,000 people have been displaced, the United Nations' International Organization for Migration (IOM) in Libya said on Wednesday.
Relatives of those still missing told CNN they are terrified. Others who learned of their families' tragic fate are devastated.
One resident of Tobruk, a city to the east, told CNN that eight of his relatives died in the flooding in Derna.
"My wife Areej's sister and her husband both passed away. His whole family is also dead. A total of eight people are all gone," Emad Milad told CNN. "It's a disaster. We are praying for better things," Milad said.
Libya has been riven by political turmoil since civil war erupted in 2014, and now has two rival governments, the eastern parliament-backed government in Benghazi and the internationally recognized government in Tripoli.
Each has reported conflicting numbers for victims following the catastrophic floods in the country. CNN is unable to independently verify the number of deaths or those missing.
Here's what we know so far:
The flood hit Libya's northeast, which lies on the Mediterranean coast. The worst-hit city is Derna, which sits some 300 kilometers (190 miles) east of Benghazi, the second-largest city in the country. A city of roughly 100,000 people, Derna sustained heavy damage. Whole neighborhoods are believed to have been washed away, according to authorities, and emergency response workers say that hospitals are no longer operational.
Morgues are stacked to capacity and dead bodies have been left on the sidewalks outside, Osama Aly, spokesperson for the Emergency and Ambulance Service in Libya, told CNN Tuesday.
The flooding was also exacerbated by the collapse of two dams, which sent water rushing towards Derna, authorities said Tuesday.
Libya is particularly vulnerable to the impact of natural disasters as it has no unified government, but two rival administrations that are locked in a political standoff following a civil war that began in 2014. The country has been in chaos since a 2011 NATO-backed uprising toppled longtime dictator Muammar Gaddafi.
Today, two warring parties are vying for control of the country. The UN-backed Government of National Unity (GNU), led by Abdulhamid Dbeibeh, sits in Tripoli in northwestern Libya, while its rival is controlled by commander Khalifa Haftar and his Libyan National Army (LNA), who support the eastern-based parliament led by Osama Hamad.
Derna and the surrounding cities hit by the flood fall under the control of Haftar and his eastern government, which isn't recognized by the international community.
Analysts have said that climate forecasts gave warnings days before the storm hit Libya, but that authorities in the east did not act quickly enough.
The inadequate response, analysts said, also comes from Libya's lack of preparedness in addressing natural disasters, something that the LNA spokesman in the east, Major General Ahmed Al-Mismari, acknowledged on Tuesday.
Libya and the eastern authorities are "not equipped to handle this level of damage," Al-Mismari told Al-Arabiya TV Tuesday, adding that at least three different specialist rescue teams are needed.
Several countries have said they are sending humanitarian aid to Libya, including Egypt, the UAE, Turkey, Italy and Algeria.
Analysts have said that the politically fragmented situation in Libya only complicates rescue missions and international aid delivery. Countries have to decide whether they will send aid to the capital, or to Haftar's rival administration in Benghazi.
Most countries have so far sent their aid to Benghazi, the closest major city to Derna and its surrounding towns. Algeria, however, sent its aid to the UN-recognized government in Tripoli, some 1,000 miles away.
Tamer Ramadan, head of international Federation of Red Cross and Red Crescent Societies (IFRC) in Libya, told CNN Tuesday that the issue of rival governments in Libya doesn't affect their operations. "We have a good relationship with officials in both governments," he said.
How did the flood happen and what role did climate change play?

The torrential rainfall that has devastated Derna and other cities in Libya's northeast is the result of a very strong low-pressure system, which brought catastrophic flooding to Greece last week before moving into the Mediterranean and developing into a tropical-like cyclone known as a medicane.
As ocean temperatures around the world soar off the charts due to planet-warming emissions, the temperature of the Mediterranean is well above average, which scientists say fueled the storm's heavy rainfall.
"While no formal attribution of the role of climate change in making storm Daniel more intense has been conducted yet, it is safe to say that the Mediterranean Sea surface temperatures have been considerably above average throughout summer," Karsten Haustein, climate scientist and meteorologist at Leipzig University in Germany, told the Science Media Center.
"The warmer water does not only fuel those storms in terms of rainfall intensity, it also makes them more ferocious," he said.