Malawi: Six more bodies found after hippo capsized boat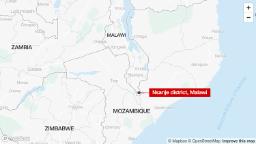 CNN
 — 

Rescuers have recovered six more bodies from a river in southern Malawi days after a boat carrying about 37 people was capsized by a hippo on Monday.
Police spokesperson Agnes Zalakoma said the bodies were recovered Wednesday from the Shire River in Malawi's Nsanje district, bringing the death toll to seven.
Thirteen people were earlier rescued but 17 are still unaccounted for and on Monday, the body of a one-year-old toddler was pulled out of the river, which Zalakoma said was infested with crocodiles and hippos.
Those found dead were aged between 17 and 51, she added.
A lawmaker for the Nsanje district, Gladys Ganda, said the villagers were crossing the Shire River to get to their farms at the Malawian border with Mozambique when the boat they were traveling in was struck by the hippo.
Police spokeswoman Zalakoma earlier told CNN that accidents are common on the river.
"It is too dangerous because it (the Shire River) is too shallow and in this river, there are crocodiles that most of the time attack people and also hippopotamus that cause incidents like the one we're dealing with," she said.
She added that rescuers are continuing the search for those missing.
The area has seen previous tragic boat accidents. In January, a canoe carrying 15 people capsized in the Shire River after hitting a tree trunk, leaving one person dead and six others missing and feared dead, Zalakoma told CNN.