Tutoring, AI and Teacher Empowerment with Anthony Salcito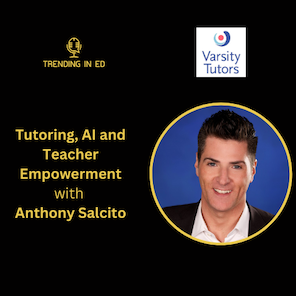 Anthony Salcito is the Chief Institutional Officer at Varsity Tutors where he's been focused on bringing high-quality tutoring to teachers and schools across the country. He joins host Mike Palmer in a conversation that digs into the power of using tutoring and emerging AI to empower teachers to drive student learning around the globe.
We begin with Anthony's origin story which culminated as Vice President of Worldwide Education at Microsoft before joining Nerdy to establish its school-facing offerings with Varsity Tutors. Then we explore his unique combination of AI and Tutoring expertise to understand his vision for increased personalized instruction powered by live online tutors and AI, providing the much needed help to our frontline teachers. Anthony imparts years of insight regarding emerging trends and foresees a world where new technology tools like generative AI serve to empower rather than replace teachers. Are we entering an age of an IEP for all? Don't miss this teacher-centered look at the intersection of tutoring and AI to learn more.
Subscribe to Trending in Education wherever you listen to podcasts. Visit us at TrendinginEd.com for more sharp takes on what's emerging in learning.