Increasing Ivy League income diversity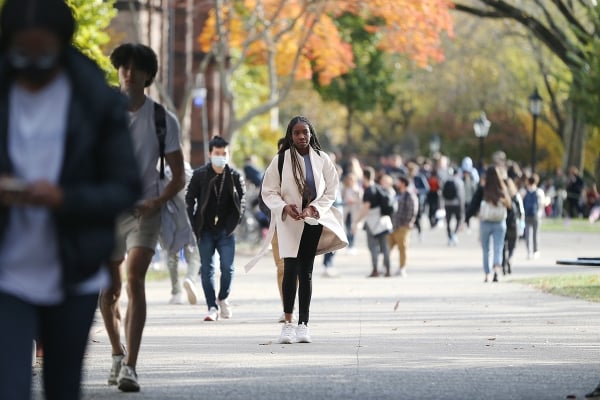 Ivy League colleges are under growing pressure to broaden their student base by using admission policies that increase the proportion of low- and moderate-income students on campuses and raise their rate of socioeconomic mobility.
A new report, released Tuesday by the HEA Group, a research and consulting firm focused on college access and success, says that the colleges can work toward those goals by increasing the proportion of such students by 5 percent.
Reaching this relatively modest target would only require the enrollment of 682 additional low-income freshmen across all eight Ivy League institutions, according to the report.
Dartmouth University would only need to enroll 53 more low-income students than it did in the fall of 2021. Cornell University would need to enroll the largest number of additional students, 162.
Michael Itzkowitz, president of the HEA Group, said these small shifts could nonetheless be meaningful.
"It's such a small number of lower- and moderate-income students that Ivy League institutions need to enroll to increase the amount of less well-off students that they serve," Itzkowitz said.
"If institutions wish to increase their socioeconomic mobility, there are intentional steps that they can take to get there," Itzkowitz said. "Even a modest step, such as a 5 percent increase, would get them on their way."
The recent Supreme Court ruling banning the consideration of race and ethnicity in admissions decisions provides even more incentive for selective colleges and universities to prioritize socioeconomic diversity in their admissions practices.
'Very Possible'
The class of first-year Ivy League students in fall 2021 consisted of 13,634 undergraduate students, according to the report, but only 2,524, or 18.5 percent, were recipients of federal Pell Grants, which are aid for low-income students. In contrast, there were 6.2 million Pell Grant recipients nationally who made up about 40 percent of the 15.4 million students in college that year.
Harvard had the highest proportion of Pell Grant recipients of any Ivy League institution, according to the report, with 21.8 percent, or 306 of its 1,404 first-year students. Brown University had the lowest proportion at 13.8 percent; it also enrolled a larger class of about 1,751 students, 242 of whom were federal aid eligible.
Brown also was the only Ivy League institution to experience a decrease in the proportion of low- and moderate-income students from 2011 to 2021, according to the most recent edition of the College Access Index, published by The New York Times in mid-September. Brown's share fell by 3 percent while the other Ivies had increases ranging from three to eight percentage points.
If all of the Ivies combined increased the proportion of Pell Grant recipients admitted by another 5 percent, they'd reach an overall average of 23.5 percent, according to the report.
"I think it's very possible that there could and should be more than 5 percent as an increase, but I see this as a very achievable goal for each of these institutions," Itzkowitz noted. "There's really no excuse that they couldn't admit at least 5 percent more."
'Affirmative Action for the Wealthy'
However, to get there, Itzkowitz said the universities will have to "take their thumb off the scale, which benefits those from more well-off family backgrounds."
For example, according to data from Opportunity Insights, a group of economists based at Harvard who study economic mobility, a student from a low-income background with the same SAT score as a student from a wealthy family is less than half as likely to get in. And over all, those from families whose incomes are in the bottom 20 percent are 77 times less likely than their wealthy peers to be admitted to an Ivy League college or another highly selective institution.
One tangible way institutions can start to change those stats is by placing "less of an emphasis on legacy admissions," Itzkowitz added. While some similarly selective institutions, including Amherst College and Wesleyan University, have ended the practice, the eight Ivy League institutions have not.
"These institutions have endowments in the tens of billions of dollars. They're in no danger of shutting down or risking their financial stability" by accepting more low-income students, he said. "They've been practicing, essentially, affirmative action for the wealthy … It's time that stops."
Lacking Concrete Suggestions
Wil Del Pilar, senior vice president at the Education Trust, a research and advocacy group that focuses on "dismantling racial and economic barriers" in education, described the report as a "good push" for something that is "not a heavy lift."
However, he noted that the report does not offer concrete suggestions for steps the institutions should take to increase the number of low-income students they admit.
"There isn't in this report a recommendation on how they get there," he said. "What would institutions need to do in terms of recruitment, in terms of their processes, in terms of what they value in admissions to get there?"
And there may be some challenges selective institutions face in making such a change, even if it seems relatively small. For example, according to a study published in July by Opportunity Insights, fewer than 2 percent of all students in the bottom 60 percent of family incomes have SAT scores above 1300, a cutoff that makes them more competitive for admittance.
"The criteria that a lot of these institutions use value wealth," he said. "If one of the barriers is that low-income students don't meet the criteria, then remove the criteria so that you can expand your pool."
"We've seen when institutions go test optional that their application pools become more diverse," he added.
The same study shows that an alternative admissions policy placing extra weight on low- and middle-income students with strong academic credentials would increase the share of students from the bottom 60 percent of the parental income distribution who were admitted to an Ivy League Institution by five percentage points.
Tanya Ang, managing director at Higher Learning Advocates, a policy-focused bipartisan organization, said that to reach the 5 percent goal, Ivy League institutions need to rethink how they approach recruitment efforts and diversify the types of high schools they visit.
"If they're going to be increasing the number of Pell-eligible students that they're going to be accepting … that is helpful. But first and foremost, [students] need to be able to know that those options are available to them," Ang said.
And once low-income students get into the Ivies, she added, it's also about making sure they graduate.
"We forget that once the students get there, you're talking about a lot of first-generation students, a lot of students of color … you hear from students who say the culture shock is overwhelming," Ang said. It's about "making sure they're not alone. That first year is really integral to the long-term viability and success."