Defending the Freedom to Learn with Jeremy C. Young & PEN America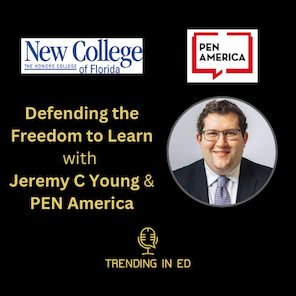 Jeremy C. Young is the Program Director of Freedom to Learn at PEN America where he focuses on defending academic freedom in schools and on campuses across America. He joins host Mike Palmer in a conversation about the unprecedented assaults on the New College of Florida and what we all can do about it.
We begin with Jeremy's origin story as a US History Professor who grew increasingly involved in defending academic freedom during his time with the American Historical Association before joining PEN America to lead Freedom to Learn. Jeremy touches on the work PEN America is doing fighting against book bans in K12 before digging into the challenges facing New College. New College is important not just for New College's sake but also because it is a test of a playbook that will likely be repeated across the country if successful. Don't miss this deep dive into the underdog story of our host's alma mater which has become the front lines of the Culture Wars on campus in these tumultuous times.
Subscribe to Trending in Education wherever you get your podcasts. Visit us at TrendinginEd.com for a more sharp perspective on what's emerging in education. Check out our other episodes relating to New College with our new dedicated playlist as we prepare for the launch of the Palm Court Podcast focused exclusively on the stories and cultural relevance of this small but proud liberal arts college.