Building Economic Mobility through Community Colleges with Aneesh Sohoni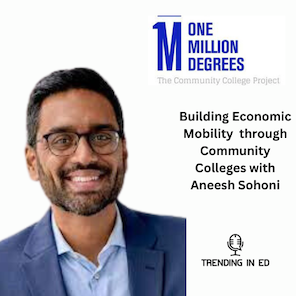 Aneesh Sohoni is the CEO of One Million Degrees (OMD), a non-profit that accelerates community college students' progress on career pathways to economic mobility. He joins host Mike Palmer in a conversation about the role community colleges and programs like his can play in opening pathways to opportunity for students in need.
We begin by hearing Aneesh's story beginning with his parents' decision to come to America to build a life for their family. From there, we hear of the role community college played in his mother's career and how that connects to the work OMD is doing with students in the city of Chicago. We hear how their model works, connecting students with wraparound services like mentorship, skills training, financial assistance, and more. Furthermore, we learn how recent randomized controlled trials done in partnership with The University of Chicago's Inclusive Economy Lab are validating the results as we look for lessons on how to translate successes in Chicago with a broader movement across the country. Aneesh outlines a vision for growth building on relationships with the City Colleges of Chicago, local industry, and donors like the MacKenzie Scott Foundation to allow individuals to thrive in transformative times. Don't miss it!
Subscribe to Trending in Education wherever you get your podcasts. Visit us at TrendinginEd.com for more perspectives on the innovations that will drive change in education.