Building a Disruptive Alternative for Post-Secondary Education with Reuben Ogbonna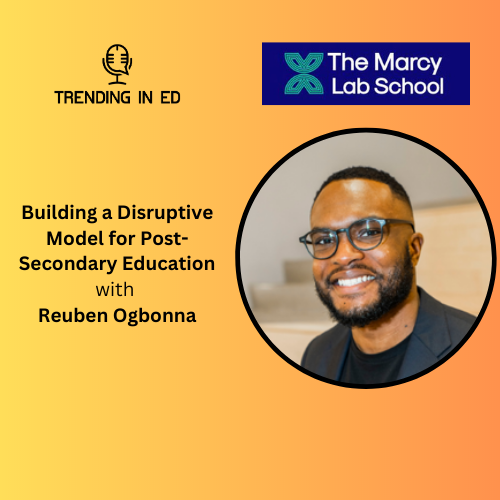 Reuben Ogbonna is the Co-Founder and Executive Director of The Marcy Lab School. He joins host Mike Palmer in a conversation about why he founded the school and how they are reimagining post-secondary education to design pathways for students traditional higher education has left out.
We begin by hearing how Reuben's upbringing in Shreveport, Louisiana, and his experience with Teach for America inspired him to create an alternative career-focused postsecondary option. Reuben explains how Marcy Lab School operates as a one-year program for underserved young adults interested in tech careers like software engineering. The curriculum balances technical skills with liberal arts and civic engagement recognizing the challenges of the current system. Outcomes focus on job placement, with average starting salaries in the low six figures. Then Reuben discusses how they have navigated challenges like the pandemic and hiring climate shifts in the tech industry in recent years. Looking ahead, we hear his vision for adapting their program to leverage AI and emphasize real-world problem-solving. He shares how access to more equitable postsecondary pathways centered on skills, not just typical college routes, can change the lives of students and their communities. Don't miss this chance to learn how all students can have diverse, high-quality options to find the right fit to land that great first job.
Subscribe to Trending in Education wherever you listen to podcasts. Visit us at TrendinginEd.com for more sharp takes on the future of education.